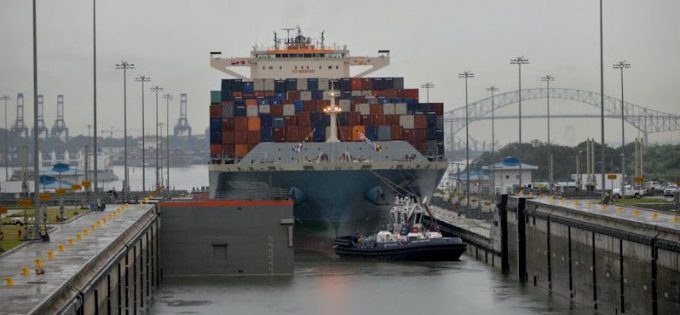 On 8 August the Panama Canal Authority (ACP) approved a reduction in its tolls for southbound neo-panamax vessels, but analyst Drewry is doubtful whether the incentives to carriers will have immediate impact.
The new tariff, $10-$15 per teu below the unchanged northbound tariff, will only apply to ships of 6,000 teu and above, and vessels must have carried at least 70% of its maximum capacity on the headhaul voyage and not take longer than 28 days to complete the round trip.
Drewry calculates that, for the eight services that currently round-trip via the canal with an average vessel size of 6,900 teu, the saving would be around $30,000 a voyage, and these 80 ships would cumulatively qualify for a discount of some $13m on the present toll structure.
The ACP's aim in offering a financial incentive, from 1 October, is to attract the other six Asia-US east coast services that currently don't make their return voyages via the Panama Canal.
According to Drewry data, three loops return to Asia via the Suez Canal and three avoid canal fees altogether on the backhaul by going via the Cape of Good Hope.
However, last week the Egyptian government rolled out substantial reductions for container vessels transiting the Suez Canal, aimed at attracting more business to boost revenue that fell 3.2% last year to $5bn. And with bunker fuel still relatively cheap, the ACP discount is unlikely to win over carriers that route via the Cape.
Nevertheless, Drewry believes the ACP will see some improved revenue – but from the gradual deployment of bigger ships through the expanded locks, rather than from rerouting. Indeed, since the official opening of the $5bn expansion in June 2016, Drewry notes that results have far exceed forecasts, with an average of 5.9 daily transits, when two to three were expected. So-called neopanamax ships of up to 14,000 teu in capacity are now able to go through the canal.
But the upgrade in container vessel size on liner services has been measured by carriers, due to a combination of insufficient demand and the physical limitations of US east coast ports, adds Drewry.
"We do not expect to see much, if any, change to carriers' routing plans this year." it said.
However, that could change next year if the Suez Canal ends its rebate scheme and Panama's return leg discounts provide a more compelling argument to switch.