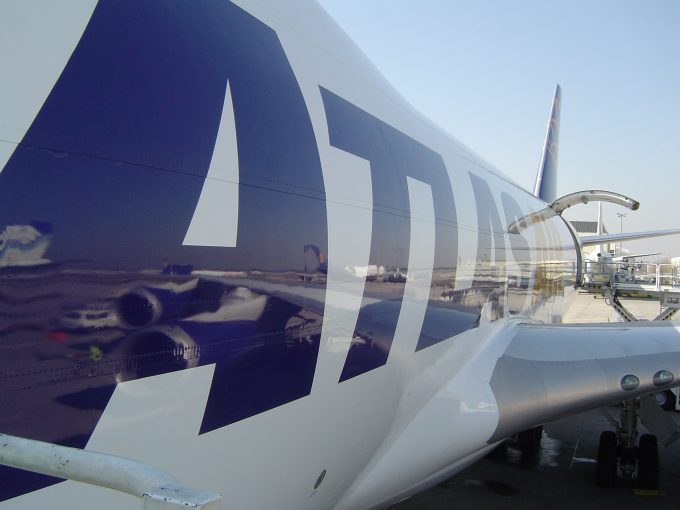 As Atlas Air announced good year-end results, tempered only by a $100m antitrust settlement, its focus was very much on the benefits of its Southern Air acquisition.
The carrier announced 2015 adjusted net income of $125.3m, up from 2014's $93.4m, for the 12 months ending December 31. Reported net income, including the settlement accrual and a special charge for a loss and costs on engines, was $7.3m.
"We outperformed the airfreight market and we grew earnings substantially," said CEO Bill Flynn in an earnings call to analysts.
The carrier believes that Southern Air will be officially acquired by April 1, and become "immediately accretive".
It gives Atlas access to more 777s and 737s, (actually owned by Oak Hill and leased to DHL) – "organically, that might take 18 months or more to achieve," said Mr Flynn.
He added: "The combination with Southern Air is anticipated to add approximately $100 million in annualised revenues."
Southern Air's main customer is DHL Express, which is also a significant customer  for, and partner of, Atlas. But Spencer Schwartz, CFO, denied that the carrier may be putting too many eggs in one basket.
"Our 2015 revenue related to DHL was about 24%. When you add Southern into it for 2016, it should be about 27%. So while we realise it's a large number, it's still clearly a minority. And obviously we wouldn't be pursuing this transaction if our largest customer, and their customer, was not supportive of the transaction. So yes, we're moving forward and DHL is happy with it; we're happy with it."
One source close to the US ACMI market agreed that the $110m Southern Air transaction was a good move for Atlas.
"No doubt this is a coup for Atlas, rounding up more DHL business and securing the B777 aircraft with a solid balance sheet. $110m seems like a bargain to acquire the bottom line EBITDA margin plus the strategic value," he said.
Atlas noted that there were few synergies in the deal, but it would not be too complex to fold Southern into its new parent, especially as both airlines' pilots are in the same union.
Atlas was more tight-lipped about its ventures into e-commerce. It has been touted as one of the carriers most likely to be courting Amazon, which reportedly is eyeing the 767 leasing market. But Mr Flynn refused to be drawn when an analyst asked if Atlas had been "contacted by any large e-commerce companies, maybe outside of the integrator network, looking for capacity, not just during peak season but … maybe a more permanent solution in the future?" – a clear reference to Amazon.
Mr Flynn did not offer an answer, but said that e-commerce was "a game-changer in underlying air freight demand", and Atlas was watching it. And he dismissed analyst concerns that e-commerce provided only small shipments, noting lower fuel costs from lighter volumes.
"All the volume gets consumed and paid for our ACMI customers and in our charter market as well, but it's lighter on fuel burn as a result of the different density."
Mr Flynn was upbeat on the prospects for 2016, in particular with regard to his company's diversification, something Atlas has had much success with.
"We're growing that 767 operation. And now, with 737s, we can also participate in shorter-haul smaller volume regional flying. So, from my perspective it puts us in a position to offer our customers both the heavy freight operators as well as the integrators, the aircraft and the services that meet their network requirements the best."
Last year, Atlas added a 10th 747-8F to its fleet, which is currently on commercial operations, "earning very attractive returns". Nonetheless, it expects to place it in ACMI operations.
Mr Flynn noted that flexibility was a key ingredient for success.
"What we have learned over the years is that there are ways to [achieve] profit from opportunities in any environment, to outperform the airfreight market and produce attractive earnings. Above all we focused on our superior customers, we have a modern and efficient fleet and a solid financial structure. And we're prepared to address the unexpected that comes at us, find a way to respond affectively and bring the results to the bottom line.
"We believe airfreight is right at the centre of the global economy. It is growing…[and] e-commerce will continue to catalyse growth."
He added that Atlas would focus on  "smart growth, not growth for growth's sake".
You can see Atlas Q4 results here, and its earnings call on Seeking Alpha here.