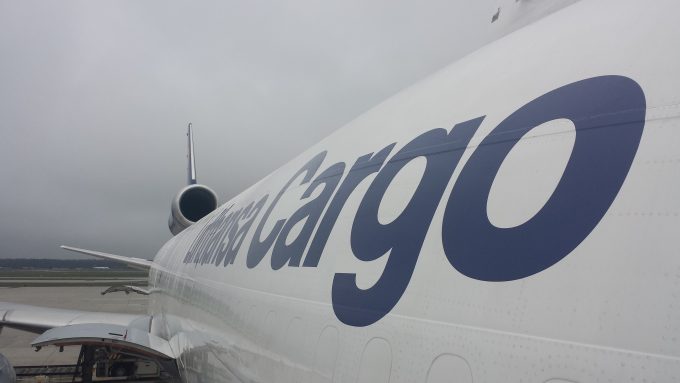 Despite expectations that the air freight market could soften this year, airlines seem keen to upgrade their fleets and networks, according to several announcements this month.
Yesterday, All Nippon Airways said it would introduce a new 777 freighter, in anticipation of increased demand for routes between Asia and North America.
Partner Lufthansa Cargo has said it would bring in four 777 freighters this year, two leased, and two bought, of which two will go to DHL joint-venture Aerologic.
The German carrier, which currently operates five 777 freighters, also told media it would begin to retire its ageing 12-strong MD-11F fleet, with two set to go by the year end.
Meanwhile, CargologicGermany, soon to be launched by the owner of Volga-Dnepr Group, has received its first aircraft, before its Aircraft Operating Certificate (AOC) has arrived. The first 737-400SF, to be dedicated to the intra-Europe e-commerce market, arrived this month at Leipzig/Halle.
Volga-Dnepr subsidiary Atran, based in Russia, is about to begin operating an additional 737-800BCF, which has arrived in Moscow, while sister airline AirBridgeCargo is set to receive a 747-8F next month.
And there are also new cargo routes. India's Spicejet has added weekly flights between Hong Kong and Guwahati with 737 freighters, a boost for the perishables business. The carrier took on its first freighter in September and plans to add three more.
However, Spicejet's cargo ambitions have, in part, been stymied by Pakistan. According to local media, Pakistan's civil aviation authority has blocked at least five Spicejet cargo flights from operating into Afghanistan since December.
The Indian-Afghanistan air corridor, launched in 2017, connects Afghanistan with Delhi and Mumbai. Pakistan has already blocked the land route for trade between its neighbours.
Meanwhile in Qatar, the national carrier has announced two new freighter routes, to Guadalajara, and Almaty. The latter will see a twice-weekly 777 freighter depart Doha on Thursdays and Sundays, arriving in Almaty the same day. On the return, the freighters arrive into Doha via Hong Kong.
Major imports into Almaty include general cargo, fashion and hi-tech products, noted the carrier.
"The new addition further strengthens our global freighter network while expanding our footprint in Europe, which is a key market for air freight," said Qatar Airways' chief officer cargo, Guillaume Halleux.
"Customers globally are offered a direct connection for imports into Almaty from our hub in Doha and can count on us for efficient and world-class service."