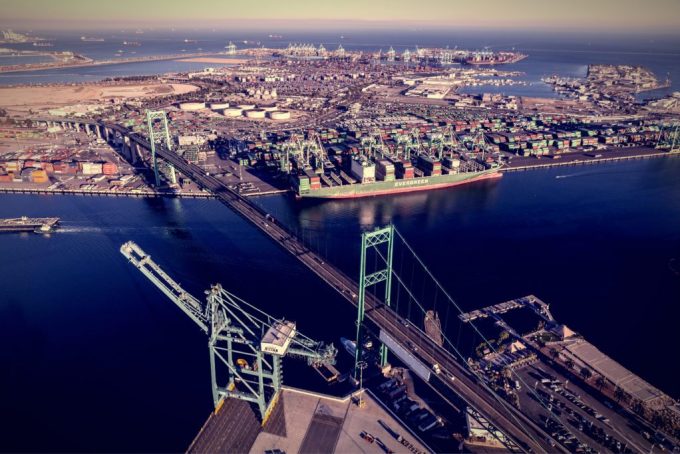 The ports of Los Angeles and Long Beach are hardly rocking around the clock. Container terminal operators are sceptical that the measure can help whittle down the congestion on the docks as ships continue to pile up outside the harbour.
Alarmed by supply chain disruptions, the US government decided it had to make changes, a move that has been labelled an act to "save Christmas", and the most tangible outcome so far on the marine side has been the decision to open container terminals at the ports of Los Angeles and Long Beach around the clock in order to move containers faster off the congested docks.
With VesselsValue calculating that, as of 26 October, 68 container ships are waiting for berths, with a total of 247,443 teu loaded in San Pedro Bay, this is hardly the proverbial cavalry charge to turn the situation from desperation to salvation.
The administration cannot mandate terminals to stay open 24-hours. In a joint briefing John Porcari, port envoy to the administration's Supply Chain Disruptions Task Force, said that its role was to broker talks rather than implement solutions. Gene Seroka, executive director of the port of Los Angeles, said that each terminal would develop its own plan to meet the goals associated with 24/7 operations.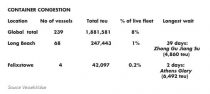 For their part, the terminal operators are not convinced that staying open at all hours is the answer to the congestion. They have pointed out that importers have not exactly been falling over one another to avail themselves of the existing gate hours.
According to SSA Marine, which runs three container facilities in southern California, 30% of the slots for appointments have gone unused. Its president, Ed DeNike, said: "Containers are not being picked up."
Maersk North America regional director Narin Phol, painted a similarly dismal picture. The APM Terminals Pier 400 at the port of Los Angeles is open 20 hours, Monday to Saturday, and offers about 2,000 appointments a day. On 15 October, the no show rate for import container pickup was 49%, and the following day it was 50%.
In light of poor utilisation of the available gate hours Mr DeNike has serious reservations about adding another shift to keep them open 24-hours. Operating gates between 3am and 8am is costly, and the terminal operators would receive no compensation for this, he said.
The Harbor Trucking Association, which represents the drayage truck operators, has challenged SSA's claim that 30% of slots have gone unused. It argues that more truckers would show up during the night if gates were fully manned and the service better.
Mr Seroka stressed that more importers had to embrace the initiative and collect their cargo during the night to give traction to the concept. Some large retailers, including Walmart and Home Depot, have agreed to night pick-ups.
Maersk is working with the industry to build up momentum. Mr Phol said: "This level of operations is not an overnight, simple solution to implement – and does not solve the broader supply chain capacity challenges and shortage of workers in trucking, warehouse and supply chain jobs."
Jens Bjørn Andersen, CEO of DSV said today: "We are happy to see activity happening in the US to solve problems, 24/7 is a very good initiative. It's fantastic and we are all at a point where we need to solve the problems. The big question is whether 24/7 will solve it.
"I don't think that alone is the only thing that needs to be done. The infrastructure is not good enough, the rail network is not built to capacity. This is the price the country is paying for lack of investment over decades."
Operators and observers have pointed out that the container pile-ups at the terminals in Long Beach and Los Angeles are largely a result of congested warehouses in the area, as well as of congestion on the rails and at inland facilities. Local truckers have been slow to pick up containers because importers struggle to find space in warehouses and therefore leave cargo at the ports, despite the high demurrage charges, one terminal operator said.
Nevertheless, the southern Californian ports have announced a $100 a day surcharge on containers to be moved by truck that are stored at the port for more than nine days, while cargo set to use rail will see free time reduced to three days.
According to Mr Seroka, congestion of rail containers has abated significantly. Over two months, LA's rail container backlog was cut by two-thirds, he said.
The port handled 903,865 teu in September. It has processed 900,000 containers a month on average for 14 months so far.
Another initiative to cope with the crisis has been a move by the California state legislature to relax container storage restrictions from two units high so far to four [see Loadstar 25/10]. The port of Long Beach announced the implementation of the measure on 23 October, effective for 90 days. The notice cited "a national emergency related to the supply and distribution of imported goods arriving in our nation's ports".