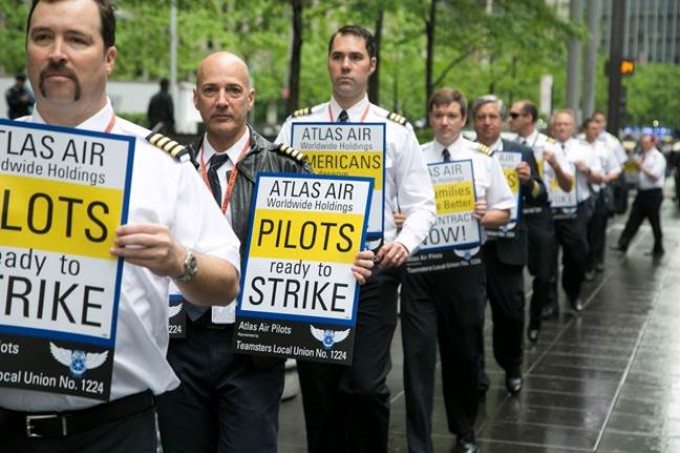 Pilots flying for DHL supplier carriers in the US have warned of a strike should airlines "make a wrong move or violate contracts".
Pilots in the Teamsters Local 1224, flying for Atlas Air and its subsidiaries Southern and Polar, ATSG's ABX Air and Kalitta, last month voted 99% in favour of a strike should mediation fail.
Tensions grew after Atlas took over Southern Air, and called for its existing pilot contracts to be merged into Southern's contract, without negotiation. Pilots also claim that Atlas stopped acting "in good faith".
Some 93% of pilots across the airlines took part in the vote.
Atlas pilot Bob Kirchner told The Loadstar Atlas had "gone into unchartered waters". He added: "They are on the very edge of pushing the envelope and the margin for safety is getting smaller. That could lead to a strike much sooner than if negotiations fail."
Mr Kirchner said negotiations had started in December, with the Atlas contract ending in September this year.
"Things seemed to be going well," he said. "But then it stopped."
He said management started to show up for meetings for just a couple of minutes, and later failed to show up at all at a meeting in New York.
As a result, the union decided to involve the National Mediation Board "to get some professionalism". Atlas, however, said mediation was "premature, as the negotiation process has just begun".
Mr Kirchner claims Atlas is angling for an arbitration process, "as it puts the union at a disadvantage".
He said: "Arbitration generally rules in favour of the company. It creates an artificial ceiling above which the union can't go. That's the incentive for Atlas."
The pilots claim that, despite ultimately flying for DHL, their benefits are up to 40% lower than those flying for rival companies such as FedEx and UPS. Pilots want to negotiate new pay, work rules, retirement benefits, medical and hours.
"Fatigue is becoming an issue," said Mr Kirchner.
Atlas and ABX Air are desperately trying to grow, following contracts with Amazon to operate 20 767s apiece. The expansion comes amid a pilot shortage in the US, and Mr Kirchner claimed there was a high turnover among pilots, which had contributed to Atlas's growing training costs.
"The training costs have gone through the roof – partly because pilots are leaving and partly because the company is growing.
"Other carriers have recognised that there is a shortage and are training pilots as fast as they can."
The pilots are trying to bring DHL into the fray, claiming it is "the goose that lays the golden eggs" and that it has some element of control over its suppliers – despite the fact that as a European company it is not legally allowed  to exert control of any US airline.
DHL itself appeared to be relatively sanguine when contacted by The Loadstar.
"We are aware of the ongoing contract negotiations between Teamsters Local 1224 and these airlines. These are negotiations between our airline partners and their unions. We can confirm that DHL does not currently anticipate any impact on our operations from these discussions."
Under the process, pilots can only strike if an impasse is reached, and following a 30-day cooling off process. But unlike in the EU, where strikes are scheduled for specific days, in the US a strike will only end when the parties reach agreement.
Atlas issued a statement following the strike vote, claiming that it was purely an "attempt to leverage its bargaining position with Atlas for a new collective bargaining agreement. The union has no right to strike by law, regardless of any strike authorization vote".
Meanwhile, pilots at Air France have given notice of a four-day strike from June 11-14, during football's European Championships. The news follows weeks of protests in France against a new labour law – but French air traffic controllers called off a planned strike for this week.