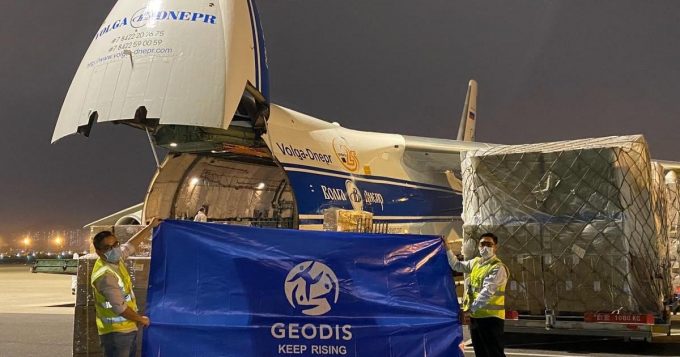 The Covid crisis, in PR terms anyway, appears to have strengthened specialised partnerships between carriers and forwarders, as they try to keep supply chains moving.
Two such partnerships have been announced in the past two days, both focusing on Covid-related shipments.
DSV Sea & Air is working with United Cargo to move pharmaceutical materials, including blood plasma, a "fragile" product that requires specialised handling.
Frozen, it needs to remain at -20 degrees or less throughout its journey and United is using va-Q-tec temperature-controlled shipping containers to ensure no deviations. One TWINx container can hold some 1,750 pounds of cargo.
DSV has delivered 20 of these to United each week, filled with blood plasma, to put on a 787-9.
United Cargo, which has operated more than 3,200 cargo-only flights since mid-March, said: "By working together and strengthening partnerships during these unprecedented times, our global community has overcome challenges and created solutions to keep the global supply chain moving.
"As Covid-19 continues to disrupt the shipping landscape, United and our industry partners have increasingly demonstrated our commitment to the mission of delivering critical medical supplies across the world."
The news follows a similar announcement by Volga-Dnepr and Geodis, which have completed a huge charter programme of 48 AN-124 flights within a 90-day period, ending last month.
The flights, on the largest commercial aircraft, carried facemasks and PPE to France as part of a French government initiative.
Operating between Shenzhen and Paris-Vatry, the flights carried a total of 3,000 tonnes, or 30,000 cubic metres of equipment. From Vatry, the supplies were sent to six warehouses around France.
Geodis said that there were a number of obstacles, including "crew quarantine restrictions, severe congestion at Chinese airport terminals and immense pressure on Chinese export traffic".
Stanislas Brun, Geodis's senior vice president global air freight, added: "We are delighted to be working with a reliable and professional partner such as Volga-Dnepr Group, which not only offers a large fleet of aircraft but also understands the complexity and criticality of the market situation, and has proven its ability to permanently adapt and adjust to the challenges.
"Geodis has been working with the Volga-Dnepr group for many projects in the past and the airline is now one of Geodis's air direct main partners."
Volga-Dnepr set up a central medical support centre and health strategy to deal with Covid operations.
Stuart Smith, global director humanitarian for Volga-Dnepr said: "This was a unique airlift challenge, given its size, frequency and the epidemiological factors our operating crews and all stakeholders faced.
"The fact that we were able to deliver all 48 flights exactly on schedule is testament to the hard work and huge intra-team co-operation between Geodis, Volga-Dnepr Airlines, Vatry Airport and Shenzhen Airport. Everyone was truly united in this project."