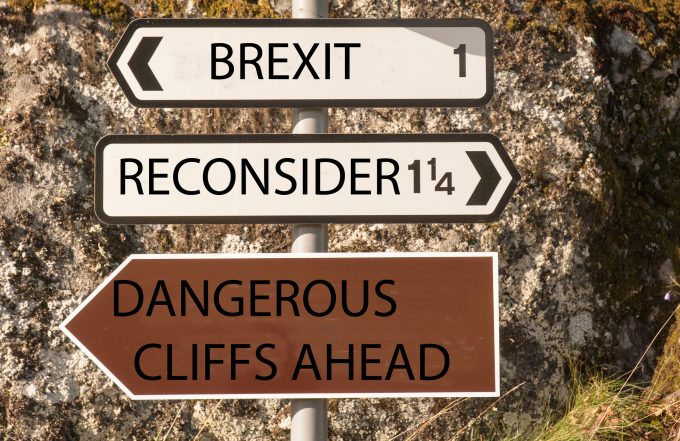 The logistics industry has called on the UK government to ensure continued free trade and no "disorderly" exit from the EU, after politicians last night rejected the Brexit deal put forward by prime minister Theresa May. 
Ms May, who lost by 230 votes, now has just three days in which to come up with a plan B, while also fighting a vote of 'no confidence' in parliament. 
Forwarders have today urged the government to avoid a no-deal Brexit.  
"The House of Commons has made a historic decision which we need to respect," said Kuehne + Nagel CEO Detlef Trefzger. 
"Kuehne + Nagel is committed to global free trade in principle which ensures prosperity for everyone. So from our perspective, "No Brexit" would be the preferred solution, since any form of Brexit is bound to increase trade barriers. 
"A disorderly Brexit is the worst solution. It will impose massive restrictions on the exchange of goods between the European Union and the United Kingdom. We appeal to the responsible bodies in London and Brussels to do the utmost to prevent this scenario. As far as we are concerned, we are focused on ensuring the constant flow of goods for our customers." 
BIFA director general Robert Keen also urged "responsible bodies" to prevent a no-deal outcome. But he said BIFA members were "ready, willing and able, to clear up the mess that has been left by politicians". 
"The rejection of the deal leads BIFA to recommend that our members, which are the companies that handle the processing of most of the UK's visible trade, to prepare on the basis that there will be a hard Brexit. 
"A hard deal may well be very disruptive and damaging for the UK economy as a whole, but freight forwarders – many of whom are Authorised Economic Operator (AEO) accredited – will play a key role in tidying up the mess left by the politicians by ensuring UK importers and exporters can continue trading without undue disruption with the rest of Europe after March 29." 
But James Hookham, deputy CEO for the Freight Transport Association said logistics could not be the "whipping boy for politicians who have failed to take into account the complexity of the supply chain over the past two years.  
"Operators of all sizes are always prepared to go the extra mile to deliver for customers, but without knowing the parameters of the market in which they are and will be working, planning has been almost impossible." 
He added: "A no deal would increase delays at the country's borders, increase red tape and costs for logistics businesses already operating on narrow margins, restrict access for transport to the EU and reduce the available skilled workforce for logistics operators – all problematic on their own, but when viewed together, a perfect storm which could cause untold damage to businesses and individuals right across the country, not just those trading directly with the EU." 
His words were echoed by Richard Ballantyne, chief executive of the British Ports Association, who said many in the sector would have "real concern" over the possibility of a no-deal Brexit. 
"We have now been discussing the implications of a 'no deal' Brexit with ministers and officials for more than two years and we know they fully appreciate the disruption that this would entail at certain key port gateways.  
"Whilst plans are in place to mitigate some of the worst aspects of this, the fundamental dangers to free flowing trade remain and must be avoided if at all possible. Ports also have a vested interest in a stable and healthy economy. We are obviously now very close to exit day and many in the ports sector will be seeking guarantees that time will found for further negotiation to avoid the UK leaving the EU on unfavourable terms." 
Agency Sector Management (ASM), however, moved to calm logistics players' fears, pointing out that the government had developed contingency plans for a no deal. 
"A lot has been said recently about the chaos that will ensue at Dover and other roll-on, roll-off (RoRo) ports if we leave the EU on 29 March without a deal," said Peter MacSwiney, chairman. 
"We do however understand from HMRC sources that there are plans in place for RoRo traffic in the event of a 'no-deal' Brexit, and that those plans (for the UK side of the border at least) do not involve inventory systems or mandatory reporting to the frontier for either exports or imports." 
However, he added: "To have an entire country as unprepared as we are with just months to go should send alarm bells ringing. At this late stage the UK trade community are in dire need of clarity and information, so they can begin making the necessary preparations.
"We are being left with very little time – mere months – to make adjustments. Whatever the outcome, I would strongly advocate for a transition period of at least two years, which will be vital to protect trade flows and avoid potentially catastrophic economic consequences."
The UK government now has three options, given that it is unlikely a new deal can be made with the EU. It can choose a no-deal Brexit, a preferred option by hardliners, it could extend article 50 – effectively delaying any exit from the EU, or allow a second referendum, which could potentially result in no Brexit at all.