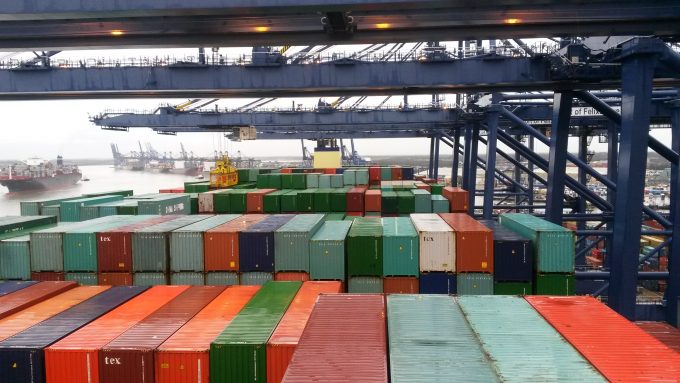 The container shipping industry is likely to come in for another very difficult year, losing up to  $5bn, according to shipping investor analyst Drewry Maritime Equity Research (DMER).
An investor note soaked in pessimism, described an industry faced with structural overcapacity that is likely to be sustained this year and weak demand. Freight rates are likely to remain volatile and weak and investors are leaving the sector in droves.
DMER revealed that "broad-based" investor sales of container shipping stocks, that accelerated in the latter part of last year, had wiped $17bn from the cumulative capitalisation of the listed companies it covers.
"While the industry remained profitable in the third quarter of 2015, margins trended downwards and the outlook for Q4 2015 and for 2016 is bleak. Drewry estimates an industry loss of up to $5bn for 2016.
"The reasons for the pessimistic outlook include downgrades to both loaded container traffic and average freight rates, with extra OPEX [operating expense] pressures from higher bunker prices, ship lay-ups, empty container repositioning from expanding trade imbalances and M&A integration," it said.
DMER warned that while liner shipping companies might turn to consolidation as a "corrective measure", this was unlikely to be seen as attractive by investors, due to the low values currently attached to possible acquisition targets.
It said that while the proposed $2.4bn takeover of NOL by CMA CGM "suggests the book value on the higher side if set against the current industry average of 0.8x, it looks low in comparison with two other major deals concluded in 2005".
The low valuations are due to the difficulty liner shipping companies have had in turning a profit, given that operational returns "have been thin amidst substantial debt hangovers from the aftershock of the 2009 crash", which deters owners from selling until values recover.
"Investor sentiment seems pessimistic: while the container shipping industry anticipates a bout of M&A activity, investors do not seem to be too enthused about it. In fact, share prices of all companies under our coverage, with the exception of NOL, continued falling during December, when the NOL deal was announced, suggesting the deal had no positive influence on the sector.
"Further, share prices of the parties involved in the COSCO/CSCL merger slumped immediately after the four-month suspension on trading was lifted. Such lack of enthusiasm from investors indicates that the current M&A decision appears to be based more on opportunity than immediate financial rationale," it said.