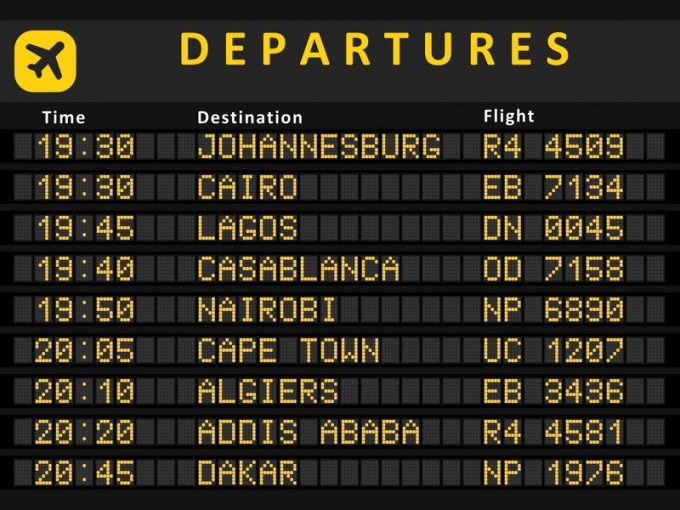 Collaboration and investment is key to boosting African air freight, for the continent continues to miss out on huge opportunities.
Africa's aviation sector comprises less than 3% of the global market, but the continent boasts 15% of the world population, delegates heard yesterday at Air Cargo Africa in Johannesburg.
"There is a huge opportunity – a golden opportunity – with the potential for very high growth," said Musa Zwane, acting chief executive of South African Airways.
Eleven of the world's top 25 countries, in terms of GDP growth, are in Africa – but so are 18 of those with the lowest GDP per capita. And economic poverty is where the challenges lie.
"It is holding Africa back from the success we want to see," said Glyn Hughes, IATA's head of cargo.
Poor infrastructure means the continent has some of the highest costs in the world, hampering development. On African runways, for example, airlines get through five times the number of tyres than anywhere else.
"There is a lot more we can do," said Barry Nassberg, chief operating officer at Worldwide Flight Services.
"We should put the onus on airport operators, which are operating without an integrated approach … without a thought for cargo policy.
"You could make it attractive for private developers to develop multi-tenanted facilities, such as cold chain facilities. It has to come back to the airport as a willing partner to allow necessary development to happen."
While it was acknowledged that poor infrastructure raised costs, there were ways to reduce them however.
"One of the easiest is to reduce empty sectors – and this can be done through cooperation," said Rainer Mueller, vice president of Saudia Cargo.
"For example, you could have a better hubbing system in Nairobi and an option to transfer cargo there. Or have a trucking system to other countries, which you could combine with the integrators, which also want support in Africa."
Poor integrator networks, as well as the lack of road and airport infrastructure and inadequate regulation, was also seen as a serious threat to e-commerce, a sector with high growth potential for both Africa and air freight.
"Rules and regulations in some cases date back decades," said Graham Perkins, EMIA vice president for Atlas Air. "It doesn't help the speed of bringing goods to consumers.
"Some countries don't have transit cargo and it is difficult to set up an e-commerce hub. And road infrastructure has to be worked on for the final mile. Delivering to the door is a concern.
"But there is desire and demand – e-commerce is growing at 30% and air cargo is growing at 2-3%."
Mr Mueller reiterated the value of collaboration: "A lot is in our hands when it comes to collaboration between airlines and forwarders and handlers. Flower exports work very well in Kenya – there is excellent cooperation. E-commerce is ongoing and happening – but we are not ready to deal with it. There is a lot we could do better."
On the ground, private companies may be able to boost improvements; African countries are still stymied by lack of standardised regulations and taxes, unlike the EU, the US and China.
However, while at the event there were repeated calls for governments and regulators across the continent to work better together and more openly, and calls for more liberalised trade, Jan de Vegt, chief operating officer of Kenya Airways, said it was too soon for the continent to be able to cope with 'open skies' legislation.
"We have to get to a situation where we have open skies in Africa – but we can't just open up without going through certain stages," he argued. "In Africa we have to grow our economies a little bit. Otherwise airlines will come in and just go out when it gets difficult."
He was backed by the head of TIACA, Vladimir Zubkov, who said: "We need to work with civil aviation authorities and governments. But Africa is a sensitive place and to let other well-developed airlines come here may be immature. The remedy is to get regulators more often to the same table."