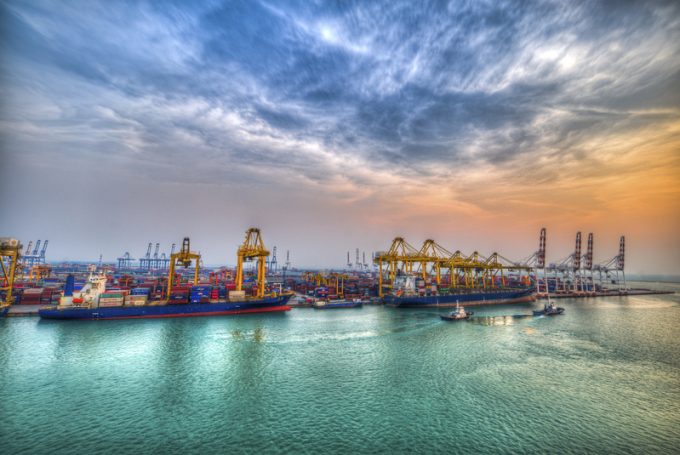 The increasing ability of Asia's secondary ports to handle some of the largest box ships is leading container lines to increase direct port calls in the region.
According to the latest Loadstar LongRead, On the cusp of change, published today, "Japanese container line ONE has drawn up plans to add fifth weekly direct call at Vietnam in May – and it will be the first to access the northern part of the country, directly linking it into the deepsea transpacific trade.
In Vietnam, the carrier already has four direct calls a week to the US from the southern deepwater port of Cai Mep, and in May it will add a fifth, operating from the northern port of Haiphong.
Recently expanded, the port's Lach Huyen terminal – like Cai Mep – is capable of handling 14,000 teu ships.
Vietnam's economy grew by over 7% last year, a 10-year high that pegs it as the fastest-growing market in ASEAN. Total exports increased 13.8% to $245bn; while national port volumes leapt 20% to reach 17.7m teu.
The growth is mirrored at Cai Mep, where volumes were up 21% in the first 10 months of 2018, reaching 2.4m teu.
ONE chief executive Jeremy Nixon told The Loadstar the carrier's strategy was to maintain its China coverage, while also increasing port calls across South-east Asia.
Thailand's major container gateway, Laem Chabang, has seen a 40% capacity increase in vessels calling at the port since Hutchison opened its new Terminal D at the end of January.
As a result, ONE was able to upgrade its 14,000 teu-operated Asia-North Europe FE5 service with direct calls from both Laem Chabang and Cai Mep.
"We're seeing increased interest and sourcing in South-east Asia from Europe," said Mr Nixon, adding that both South-east Asia and the Indian subcontinent were becoming more competitive in manufacturing.
"There's significant growth there, both as consumer markets and manufacturing markets, because of their competitiveness in labour costs, the reasonably high population levels and relatively close proximity to the deepsea trades, in terms of hub port connections."
In Indonesia, Jakarta's New Priok terminal has also won mainline services to the US and Europe.
However, despite the regional port upgrades and subsequent uptick in direct calls, the South-east Asia transhipment market looks set to continue largely unchallenged, with the mega-ships plying the deepsea trades having already surpassed most of the region's terminal handling capacity.
Mr Nixon explained: "The ability to add mainline calls is really linked to the infrastructure quality and maturity of the terminals to accommodate big ships. The 14,000 teu ships are at the upper end of the limit for a lot of the South-east Asia terminals, and so it's not so realistic to deploy 20,000 teu ships on the Europe trade, for example.
"We'll continue to develop more direct calls where the market justifies it, but where customers are looking for frequency, and a direct call is not so important, we have that hub-and-spoke network."
ONE has chosen to hub all its intra-Asia services into a single location, Singapore. The Japanese carrier has 75 services a week calling the city-state, and in December inked a deal with PSA to jointly operate a dedicated four-berth terminal at Pasir Panjang.
Mr Nixon said the 4m teu capacity facility was a "long-term commitment that allows ONE to ensure really smooth connections between deepsea, feeder and intra-regional services".