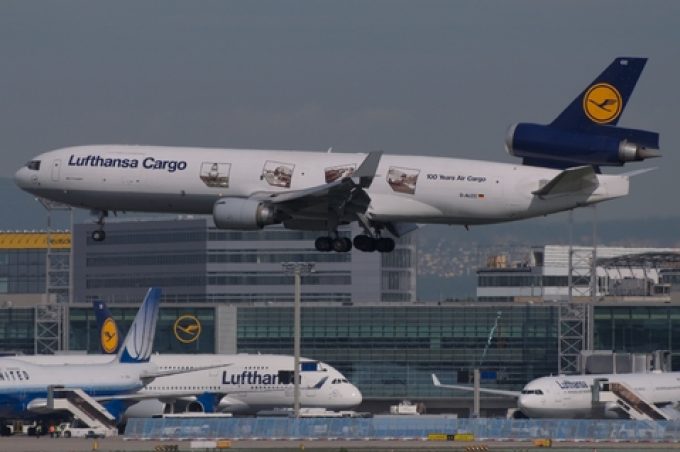 European airport cargo data for 2022 is trickling in. The numbers are poor, but likely to be poorer still this year.
Frankfurt is the latest to admit to falling volumes last year, down 13.3% on 2021, to some 2m tonnes, and, like Schiphol, volumes were down on 2019 too, by 5.6%.
December was particularly bad, with year-on-year volumes down 19%.
Operator Fraport said: "The main factors contributing to this decline included the airspace restrictions related to the war in Ukraine, the zero-Covid strategy pursued by China through almost the entire year and the overall economic slowdown."
Frankfurt is not alone. Liege said last week volumes were down 19.3%, to 1.1m tonnes, although it suffered the loss of a major customer, AirBridgeCargo, as well as restructuring by FedEx.
The airport added that the resumption of passenger flights elsewhere, and consequent additional belly capacity, had also taken its toll on its cargo numbers, as had declining consumer spending and modal shift back to sea freight. However, throughput was still higher than in 2019, when the airport saw volumes of 900,000 tonnes.
Liege could, however, be facing a further setback: it will find out next month whether appeals against its severely reduced environmental permit, limiting the airport to 50,000 aircraft movements, have been successful. Last week, ACI Europe director general Olivier Jankovec urged the Walloon government to amend the permit.
"No one disputes the need to regulate airport activities to limit their environmental impact as much as possible and ensure the conditions for sustainable development. However, it is clear that some of the conditions currently set out in the environmental permit for Liège Airport would put an end to what is a real success story for Wallonia – thus depriving the region of a powerful engine for its economy, employment and social cohesion.
"The approach advocated by this environmental permit is all the more incomprehensible given that Liège Airport is recognised at European level as 'best in class' in terms of managing its environmental impact, particularly with regard to noise… I therefore urge the Walloon government today to make the environmental permit fully compatible with the airport development plan that it itself has supported and endorsed."
Liege Airport's business plan makes provision for some 70,000 take-offs and landings annually by 2040. In 2021, flight movements totalled more than 45,000.
In Brussels, cargo volumes fell 8% last year, after a 30% rise in 2021. The airport said full freighter traffic was down 13%, compared with 2021, but was 78% higher than in 2019. Belly cargo was up 27%, compared with 2021, but 22% lower than in 2019. And integrator traffic fell 13%, but was 24% higher than in 2019.
"In general, cargo volumes were under pressure all year due to ongoing geopolitical tensions, lockdowns in China and the threat of a recession and its impact on e-commerce," it said.
Schiphol reported cargo volumes down 14% year on year in 2022, to 1.44m tonnes, and also down 9% on 2019. Cargo-only flights fell 24%, and were 30% lower than in 2019.