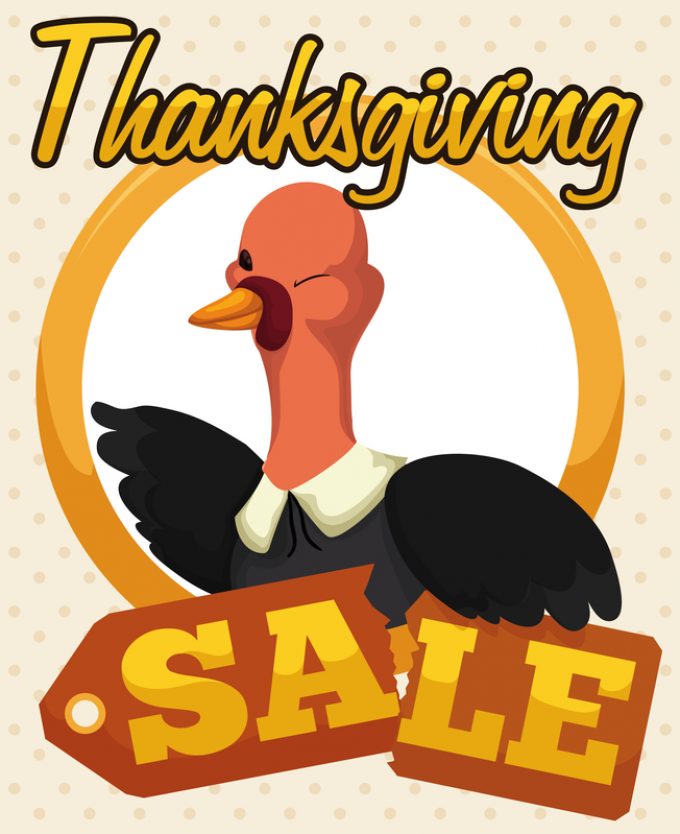 Some 32 million Americans will shop today – but 115 million will shop tomorrow.
In fact, over the next five days, 69% of Americans will pull out their wallets, with more than $12bn expected to be spent online alone.
In the UK – where there is no Thanksgiving holiday – the success of manufactured retail days is even clearer.
Some £7bn is forecast to be spent online this weekend – tomorrow, it'll be £1.7m per minute, easily beating (by 50%), the UK's top shopping day, December 26, traditionally a bricks-and-mortar day.
But these numbers, in turn, are dwarfed by those of China's Singles day, November 11, which saw $25bn in sales.
There are two significant effects from this: one, the impact on the logistics and delivery industry; the other is on retailers.
According to CEVA, if a distribution centre or warehouse generally has 300 staff, it will need 800 for the peak season.
Chicago Rockford Airport, which is setting itself up as an e-commerce hub after Prime Air moved in and UPS upped its capacity, is handling 60 flights a day for one operator this season, up from the normal 13. Earlier this month, the airport's surrounding businesses were recruiting more than 2,000 staff to handle the peak – and handlers are even paying $250-a-week bonuses to workers just to turn up.
Meanwhile, UPS has hired 95,000 seasonal workers this year, FedEx is hiring 50,000 and increasing the hours of existing staff.
It's a massive operation, and one which has contributed to a fuelling of air freight growth – parcel volumes have more than doubled in 10 years. Air freight saw e-commerce demand grow 20% last year, while the integrators have seen a compound annual growth rate of 5.6% in the international express market.
But while these sales are having an enormous – and mostly profitable – effect on surface and air transport, the impact on bricks-and-mortar retailers is more grave. So far this year, some 20 or so US retailers have gone bankrupt, including big names such as Toys R Us, Payless Shoe Source and RadioShack.
Yet, among all those big numbers revealing billions in online spend, bricks-and-mortar still dwarfs e-commerce, which only accounts for about 9% of the total retail spend.
The trick, of course, is to make multi-channel selling profitable; and the key to that is the supply chain, selecting the right logistics service provider and investing in technology.
Ben Boswell, VP EMEA at World Wide Technology, said: "In order to stay relevant to consumers who are now accustomed to very rapid delivery times and excellent product visibility on online platforms, bricks-and-mortar retailers must look closely at their supply chains.
"Digital supply chain technology is enabling 'online' inventory management features to be brought to the physical store. Levels of online interest in specific products in different areas are being used to stock physical stores that give customers what they are looking for."
There will be other ways to convince the full-bellied Americans to get off their couch this weekend and head to the shops. Try-before-you-buy is catching on, giving physical stores an advantage. Better still, stores are beefing up their unique selling point by offering entertainment, play zones and activities.
So once you've had your turkey, pop to the shops and find out: was it more fun to go to the mall, or should you have stayed online, and on-couch?
Happy Thanksgiving!
Keep a look out for next week's Loadstar LongRead – ecommerce: shopping and shipping