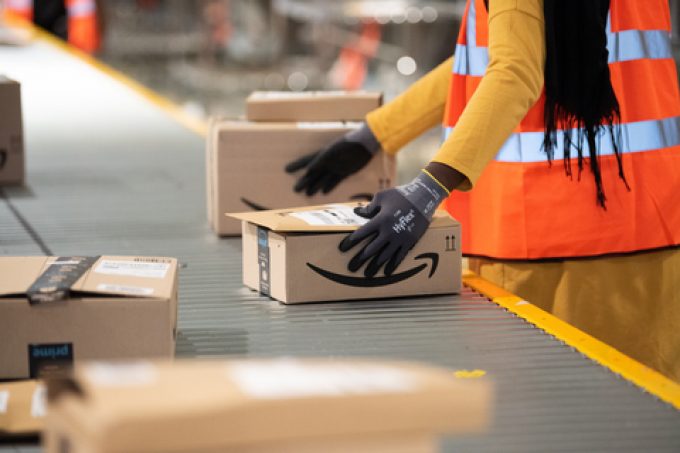 Amazon is simultaneously going in opposite directions.
Faced with a slower market and painful losses, the company is shrinking its footprint, including its warehouses. At the same time, however, the company has embarked on a push to build new fulfilment centres across the US.
The downturn in the market hit Amazon's balance sheet and turned the rapid expansion of facilities, freighter fleet and workforce into retreat. Last year, the company reported a net loss of $2.7bn, despite a 9% increase in sales.
John Haber, chief strategy officer of Transportation Insight, said Amazon had expanded too aggressively and needed to cut back.
The shrinkage started late last summer and has picked up momentum. By the beginning of this month, Amazon had cancelled, delayed or closed 99 warehouses, is reducing its workforce by more than 10,000 people and looks set to shrink its aircraft fleet. According to freighter lessor Air Transport Services Group, Amazon will not be renewing leases for 10 B767 freighters that are expiring this year.
During the earnings call following the presentation of its 2022 results, Amazon CEO Andy Jassy identified cost reduction in Amazon's operations as a top priority.
The decision to build more fulfilment centres runs counter to this drive, but is a strategic imperative for another priority: the expansion of same-day service capability. Management called this another priority and CFO Brian Olsavsky said Amazon was working to increase its speed of delivery in order to attract more one-day shipments.
According to Mr Jassy, fast delivery helped drive customer demand in the fourth quarter as well as for the whole of 2022.
It's a battlefield Amazon cannot afford to ignore, said Mr Haber. Both Walmart and Target are expanding their same-day offerings, and Target recently signalled that it intends to invest $100m in next-day delivery capabilities, while Walmart is leveraging rapid delivery from its stores to consumers.
And, added Mr Haber: "UPS is also in this space, with Roadie. Amazon has got to be in that business because its competitors are in it and it is growing – and people expect it to be in it."
He noted that this was a different segment to regular online shopping, which has slowed. People are deferring planned acquisitions, but there is a different segment of immediate purchases, such as replacement of missing or broken items consumers don't want to be without for an extended period of time.
Moreover, this segment is likely profitable, he added.
The facilities Amazon is building to beef-up same-day services are much smaller than its regular fulfilment centres. These are essentially small fulfilment-cum-delivery stations, geared primarily to set up shipments for immediate delivery. Orders are processed within minutes of arriving, packed and handed to flex delivery drivers to arrive at consumers' doors within five hours.
It is a service that does not address rural areas, but is squarely focused on large urban conurbations. In large cities like Chicago, Amazon will need several of these new type of stations, Mr Haber said. So far, the company has 46 in the US.
It will be interesting to see how smaller retailers respond to this push by the behemoths. Observers have noted that setting up such delivery networks is beyond their muscle, so they would have to work with final-mile carriers like Instacart or Shipt to offer a comparable service.
The charges of those carriers may prove prohibitive, though. Pundits have pointed out that the giants use gig drivers for their same-day offerings, as unionised drivers would be cost-prohibitive. One question is what would happen if a state government (California springs to mind as a potential candidate) were to tighten rules around the classification of gig drivers in this space. For now, though, it is full steam ahead for the efforts of Amazon, Walmart and Target to ramp up their same-day service, even as they cut back elsewhere.