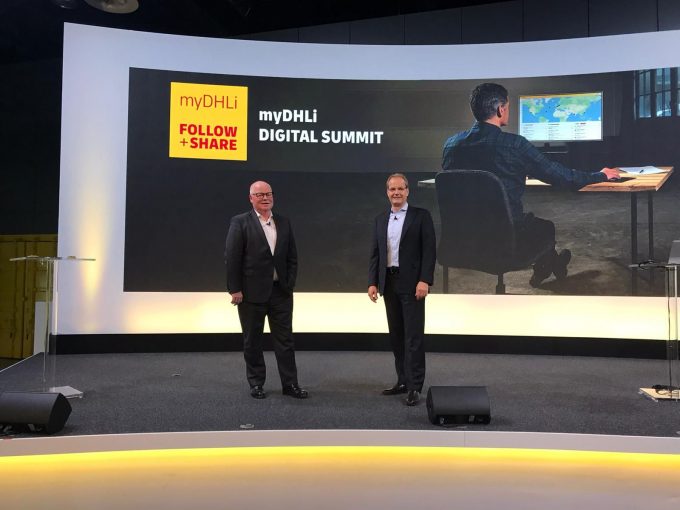 DHL Global Forwarding has reported a 56% boost in online bookings and sales since the rollout of its myDHLi platform.
Launched a year ago, myDHLi is now available to customers in 62 countries, with Global Forwarding CEO Tim Scharwath (above, right) describing it as a platform that "translates digitalisation into consumer-centricity".
He said: "By the end of 2020, we had 1,000 customers on the platform. Now we've reached 3,000 and, in light of this successful launch, we will continue to expand the platform by adding more languages.
"The plans for this year is to get to between 8,000 and 10,000 customers using myDHLi," he added.
myDHLi is a modular booking app customers can personalise to cover quotes and bookings, document management and shipment tracking across the forwarding network.
Mr Scharwath noted that the surge in bookings between Q1 20 and Q1 21 coincided with a string of improvements to functionalities, including the platform being made available to road freight customers, via DHL Freight.
Freight CEO Uwe Brinks (above, left) said: "In light of demand and feedback from users, we decided to make myDHLi also available to our road freight customers, so they can benefit from the features and services already available to air and ocean freight customers. The advantages for road freight shippers using the platform is that gives them much wider control over their shipments."
In a separate development, Japanese container line Ocean Network Express (ONE) has begun trialling a digital freight booking platform.
MD of marketing and commercial Hiroki Tsujii said: "Shippers today need a more efficient and streamlined end-to-end freight booking experience; customers can now receive an instant quote and place bookings anytime, anywhere. It's a one-stop service that automates traditional manual tasks."
Supplied by Descartes, ONE's Kontainers solution mirrors many of the functions of myDHLi, including quotes, booking and tracking for carriers, forwarders, transport intermediaries and NVOCCs.