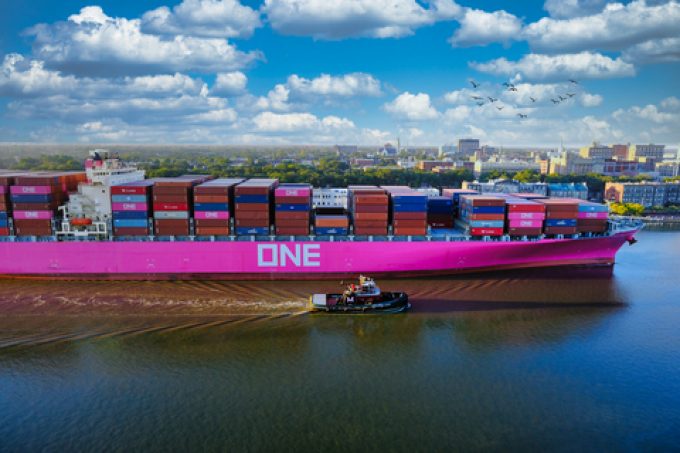 Japanese carrier ONE's CEO, Jeremy Nixon, says he expects the normal slack period after next month's Chinese New Year holiday to last until April or May, with a "very soft February" for sailings from Asia.
Mr Nixon joined Port of Los Angeles executive director Gene Seroka yesterday for the port's monthly media briefing.
Loaded imports to LA were down 24% in November, compared with the same month last year, at 307,079 teu, as carriers blanked 13 sailings to the west coast hub.
However, despite the recent slump in demand, the port's container throughput for the 11-month period is down just 7%, at 9.9m teu, against the all-time record achieved in 2021.
"Imports have begun to level off, in addition to cargo that has shifted from west coast ports due to protracted labour negotiations," said Mr Seroka. "In the months ahead, we're going to have work harder and smarter to earn cargo back."
However, carriers have already blanked 11 sailings to LA this month, and that could increase significantly after the Chinese new year holiday, which begins on 22 January.
"It's not surprising that we are seeing some cooling off on a comparative basis," said Mr Nixon, after the "off-the-charts" volumes of 2021.
"Ever since the Golden Week holiday in China, things have been very soft. We have been adjusting our capacity, so we have been blanking about 20% of our sailings and, over the CNY very typically, we drop down to running around 50% of our services. We will just bring them back as demand picks up," he explained.
"The market will decide, ultimately, on demand, the customers make their comments very clear through their bookings, and we'll meet that demand."
In terms of new annual contract rates on the transpacific, Mr Nixon said it was "early days" on negotiations and there was still a way to go before the new contracts kick-in on 1 May.
He cited a pick-up in demand, boosted by a re-inventory programme by retailers, as critical to setting the landscape for the contract rate negotiations.
Indeed, BCOs will be unclear at present about the amount of space they should be tendering for next year. In a recent Logistics Executive Briefing paper from Drewry, the consultant said that, as the bid season approached, "negotiations will require a revised ocean freight procurement strategy".
"Many shippers will be cautious about minimum quantity commitments, feeling unclear about their own demand predictions," said Drewry.
Meanwhile, Mr Nixon remains positive that demand will bounce back next year.
"Let's see how things progress, but generally one thing we have learned in this industry is that things go up and things go down; but when we get periods like this, when the cargo volumes drop away, normally it means that at some point down the line cargo volumes go back up above average," he said .