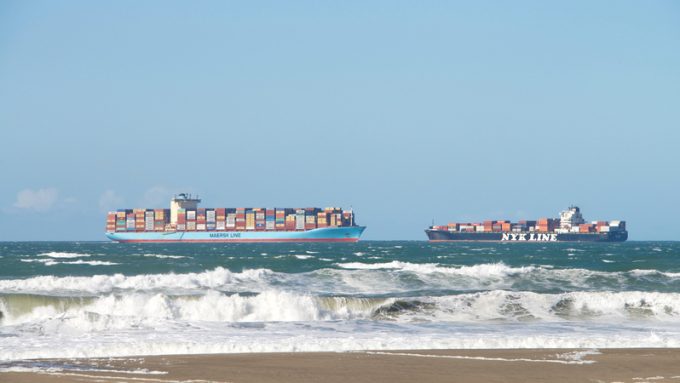 Ocean carriers are "taking advantage of the moment", according to Alphaliner, boosting their balance sheets on the back of booming demand and all-time high spot rates.
Carriers are "surfing a wave", said the consultant, but added that mid-term visibility was low and global growth predictions for next year and beyond were shrouded in uncertainty.
Alphaliner said 2020 would be remembered as "one of the strangest years" for container shipping, with carriers issuing profit warnings at the start of the second quarter as the pandemic forced most countries into lockdown, severely impacting world trade.
Hapag-Lloyd CEO Rolf Habben Jansen last week provided a stark insight into the dilemma facing carriers at the prospect of a significant contraction in liftings due to Covid.
"If I look at Hapag and 20% of our volume is gone, then we are all of a sudden missing $200m of revenue a month, and of course in order to react to that you have to take costs out of the system," he said.
However, as lockdowns eased, pent-up demand, boosted by changes in consumer spending, has encouraged carriers not only to reinstate blanked sailings, but also to deploy extra loaders.
"The reasons for this sudden resumption in container shipping demand are multiple: a catch-up effect, dislocation of air freight markets benefiting seaborne transport, a hefty rise in demand for hygiene products and people spending money on consumer goods rather than on travelling," said Alphaliner.
Ahead of what analysts now expect to be an exceptionally strong third-quarter results season for ocean carriers, Maersk yesterday upgraded its full-year ebitda guidance by almost 20% after reporting a staggering 45% increase in its unaudited revenue at $9.9bn, despite a 3% year-on-year decline in the number of containers carried.
However, CEO Soren Skou cautioned that the outlook remained uncertain, due to the pandemic.
"The positive impact from stimulus packages may be less strong in 2021," said Mr Skou. "Potential new lockdowns will impact demand and the timing and effectiveness of a potential vaccine will impact 2021."
Notwithstanding the current strong demand, carriers are being hobbled by the dearth of containership tonnage on the charter market needed to cover the extra volumes on offer. According to brokers, for vessels that do become available, daily hire rates two or three times higher than achieved in April and May are asked for.
"I thought that the market would soften after the Golden Week holidays, but if anything it seems to be stronger now," said one Hamburg broker source this week. "I've a long list of fixture requirements but no ships are becoming available over the next four to five weeks."
Meanwhile, reflecting this, the containership demolition market has slowed to a trickle, with Braemar ACM reporting just four vessels, with a total capacity of 5,000 teu, sold for scrap in the past 30 days.