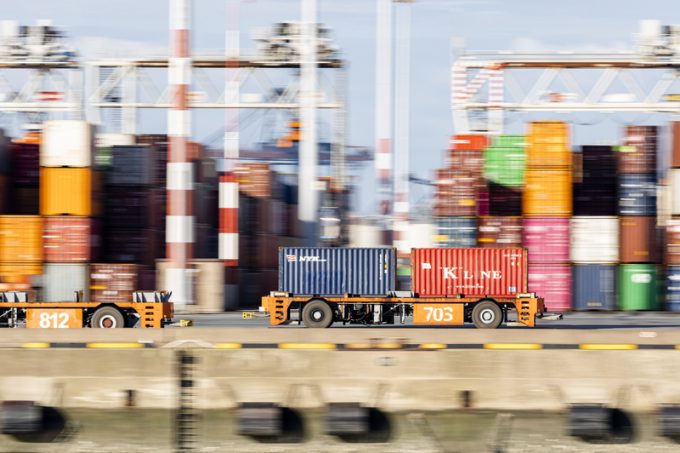 Container shipping freight rates continued at their highly elevated levels for another week, as strong consumer demand in North America kept up the pressure on supply chains.
The Asia-US west coast component of the Freightos Baltic Index (FBX) edged up 1.5% week on week, to reach a new high of $5,627 per feu. At the same point last year, the rate was $1,669 per feu.
On the all-water Asia-US east coast trade, today's FBX reading stood at $7,674 per feu, a week-on-week increase of 4%, while the rate last year stood at $2,604 per feu.
There seems little chance that price levels will ease anytime soon, as there is no sign of demand diminishing, there are still  too few vessels available for employment and congestion remains a constant feature in many North American ports.
Judah Levine, research lead at Freightos, noted that, even if consumer demand in North America fell, especially if the hospitality sector was able to reopen as the vaccination programme is rolled out, US retail inventory levels are so low that the import demand boom would march on regardless.
"The sustained demand driving these rates, overwhelming carriers, means even some containers booked on recently signed and highly elevated annual contracts are being rolled, and that storage space for finished goods waiting to be shipped is becoming scarce," he said.
"And though US retailers are spending more than in 2019, items continue to fly off the shelves, keeping inventory levels at record lows. This means businesses may still struggle to avoid stockouts come the holiday season.
"It could also mean that, even if consumer demand for goods declines as services rebound, retail restocking will keep ships full and rates up for some time longer," he added.
The Asia-North Europe trade saw rates climb 6.5% this week, to $8,839 per feu, nearly five times higher than at this point last year, when they stood at $1,965 per teu.
And the Ningbo Shipping Exchange noted that westbound vessel utilisation remained full.
However, Europe's shippers on other trades might finally have begun to see rates at least plateau: the Asia-Mediterranean route saw its FBX rate decline 1.6% this week, to $9,237 per feu (which stood at $1,965 last year); the transatlantic rate declined 0.8%, to $4,270 per feu; and the Europe-east coast South America rate dropped 2.7%, to $2,055, compared with $913 at this point last year.
However, costs continue to rise for transporting boxes around Europe after they been processed through gateway terminals. Several carriers have recently levied inland transport surcharges from key hubs.
And CMA CGM announced this week it would apply a $300 per 40ft peak season surcharge (PSS) on its north European and Baltic feeder and shortsea services, and a $600 PSS on intra-Mediterranean and North Europe-Mediterranean services, beginning 1 June, "considering current steady volumes amplified with substantially increased costs".
Are shipping lines profiteering? Find out what the experts think in this clip from The Loadstar Podcast.
Liked what you've heard? Listen to the whole of the Podcast HERE