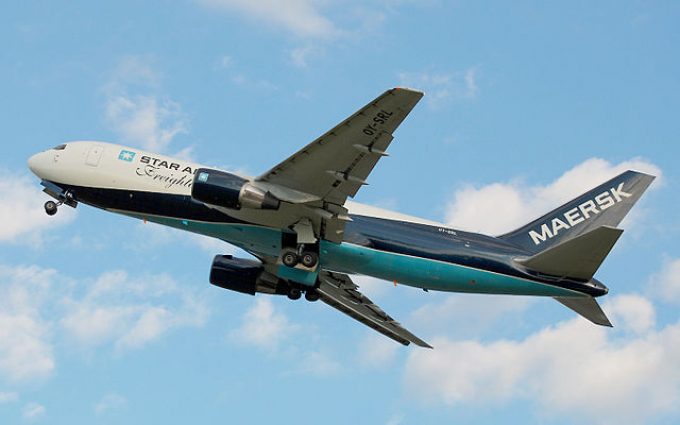 Maersk has finally confirmed that it is using its cash-packed war chest to invest in air freight, much as rival CMA CGM has done.
This morning it confirmed it was buying air freight forwarding specialist Senator International, for $644m, news broken by Loadstar Premium last month.
It also confirmed it would lease three 767-300Fs from ATSG next year and buy two 777Fs for delivery in 2024.
Sources told The Loadstar Maersk had attempted to buy 777Fs which were ultimately snapped up by CMA CGM.
One source also indicated that Maersk had, at one point, been considering a new aircraft operating certificate, but it appears to have decided instead to use its Star Air subsidiary.
Star Air, launched in 1987, has hitherto primarily worked on behalf of the express companies, with a long-term contract for UPS. It operates a fleet of 12 very elderly 767-200Fs, average age 33.7 years, all on lease, most leased in 2005/6. In May this year, it leased a converted 767-200 at the grand old age of 38, but it also operates three younger 767-300Fs.
The 777s will allow it to offer longer-haul and more general cargo services, while 767s are popular with express operators.
Maersk said it expected to carry about one-third of its air freight on its own services, while the remainder will be sourced from charter airlines and scheduled carriers. Maersk added that it was committed to explore carbon-neutral fuels (a quest that would be easier if its aircraft were younger).
Senator, meanwhile, is well-known in air freight circles as a forwarder, like the former Panalpina, which has had its own controlled network since 2016. It has since developed its routes from Frankfurt-Greenville Spartanburg, to operations across Europe, Asia, South Africa and the US, together with aircraft lessor and operator Magma Aviation, a sister company to charter broker Chapman Freeborn.
"As a global provider of integrated logistics, Maersk is improving the ability to provide a one-stop shop and end-to-end logistics capabilities," said Vincent Clerc, executive VP and CEO of ocean & logistics.
"We have strengthened our integrated logistics offering through e-commerce logistics acquisitions, tech investments, expanding our warehouse footprint and, as a natural next step, we are now ramping up our air freight capacity significantly, and creating a broader network to cater even better for the needs of customers.
Tim-Oliver Kirschbaum, CEO and shareholder at Senator, said: "By joining Maersk, we strongly believe we will be able to deliver an even broader portfolio. Senator's customers and team will love it."
Maersk added that Senator uses the CargoWise One core operating system, which will accelerate the integration into Maersk's air and LCL platforms.
Investment in air freight was expected, following Maersk's move into integrated logistics – and a good couple of years of money-making. Freighters are not for the faint-hearted and deep pockets are essential. Executives in the air cargo industry said they were not surprised by the move, but CMA CGM and subsidiary Ceva, as well as Maersk, needed to be mindful of neutrality.
"It's an interesting move," said one senior airline executive. "The lines are cash-rich at the moment; they have seen what's going on and want a piece of it.
"It'll be interesting to see how it plays out. They seem to have it all covered now. But competition is healthy, and it may give us an opportunity to do more with them."
But another air cargo executive who buys capacity, said he had struggled to convince some customers to use services from CMA CGM Air Cargo, as they felt there was a conflict of interest, both with its GSA, ECA, and with Ceva Logistics.