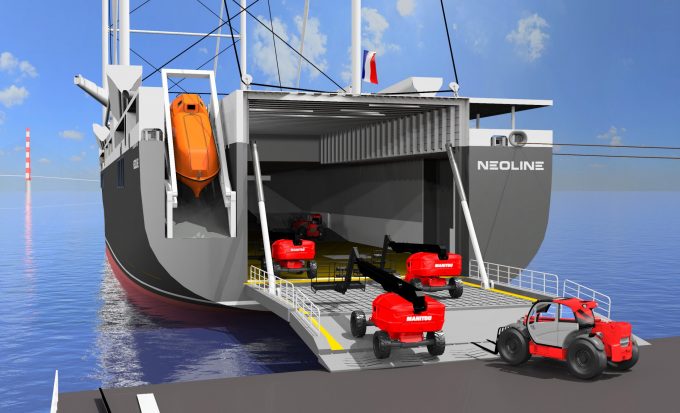 A new age of sail tacked another step closer this week when French industrial machinery manufacturer Manitou announced it would use a Neoline wind-powered ro-ro vessel.
Manitou has agreed to "transport all aerial work platforms and telehandlers manufactured by Manitou Group in France via a primarily wind-powered cargo ship heading for the North American market".
Neoline is planning a fortnightly transatlantic service between Nantes, Baltimore, Halifax and and the French North Atlantic outpost of St-Pierre & Miquelon.
Manitou exports around 1,000 machines to the US each year and will have a load capacity of 40 machines per Neoline departure from Nantes.
Augustin Merle, director of logistics and projects at Manitou, said: "We are proud to sign this contract with Neoline today. It is an important step in moving this project forward.
"By engaging with a local partner, we are not only strengthening our regional position, but we are also going to reduce our transport carbon footprint, while guaranteeing reliability of service for our customers in the United States and Canada."
Neoline said construction of the first vessel "will begin in the coming months", and voyages would see a 90% reduction in CO2 emissions compared with conventional ro-ro vessels.
The vessel will have a length of 136 metres and sail surface of 4,200sq metres, and a second "will follow as soon as possible in order to achieve a rate of departure of every two weeks".
Neoline president Jean Zanuttini said: "Manitou Group is demonstrating its resolute commitment to the energy transition of its supply chain, and thereby gains access to a new generation of maritime transport.
"We are technically and commercially ready to quickly and drastically reduce transatlantic supply chain emissions."