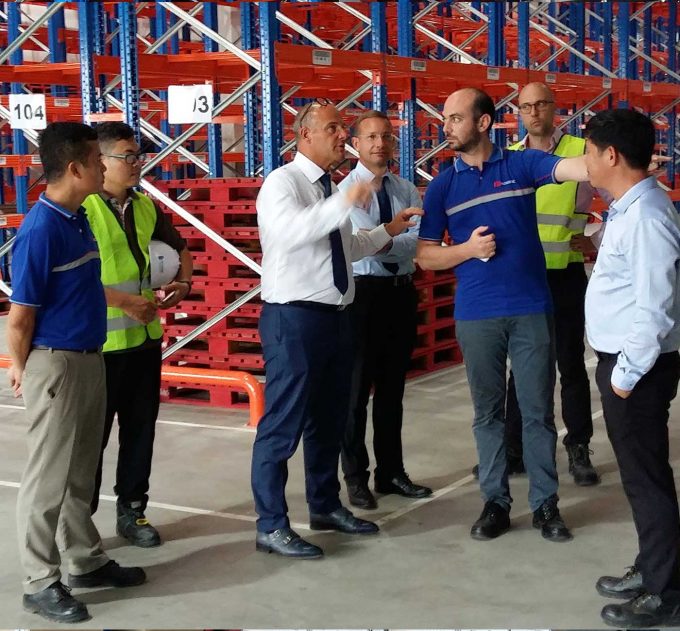 Vietnam's booming economy and surging domestic retail sector is creating big opportunities for contract logistics players.
According to Hamza Harti, country managing director for French 3PL FM Logistic, while e-commerce is a driver of warehousing and logistics demand, it's not the major factor.
"Most of the growth is from traditional retail, which has been our main focus," he said on the sidelines of the Vietnam Warehousing & Logistics conference in Ho Chi Minh City last week.
"Our retail customers are doing very well, they say consumption is growing fast, they see a bright future for their operations and so they're investing a lot in Vietnam," he added, noting the country's economy was predicted to hit 8% GDP growth this year.
Mr Harti cited French retailer Decathlon as doing particularly well in Vietnam, having recently opened two new stores, while Japan's Uniqlo and a host of Korean retailers have recently entered the market.
"We now have ten major customers and have doubled our revenues in Vietnam this year," he said. "We believe in Vietnam and in its development, that's why we've invested so much money here."
Indeed, since entering the market in 2017 with big ambitions to become a leading contract logistics player, FM has invested in a string of multipurpose warehouses. In March 2020, the company will open its biggest facility yet, a $30m 52,000sq metre warehouse in Bac Ninh, 20km from Hanoi.
"The facility is for the expansion of existing customers as well as new prospects," said Mr Harti. "We believe it will have significant demand, as its one of the last warehouses available in the area in the most premium industrial park near Hanoi."
Mr Harti agreed the logistics market was extremely competitive in Vietnam at the moment, with many foreign players moving in, but insisted there is "room for everyone" due to the significant growth in demand.
Stéphane Descarpentries, FM's Asia operations director, said retail logistics in Vietnam was quickly moving towards omni-channel, following in the footsteps of China, where the company has been operating since 2005.
"If you take China as an example, you see a lot of e-commerce companies buying traditional retailers and vice versa," he explained. "So our strategy in Vietnam is to be able to provide both B2B and B2C deliveries from the same distribution centre."
As well as the huge size of the country, Mr Descarpentries said the key difference in the Chinese market is the salaries, which in cities like Beijing and Shanghai are on par with central Europe. As a result, investing in warehouse automation provides a greater return on investment.
China's e-commerce share of retail is already at one-third, he added, much higher than even in Europe.
"So in terms of omni-channel, digitalisation, automation and robotics, what's happening in China will happen in Europe in 2-3 years and South-east Asia in 5-6 years," he reckoned.
Meanwhile, in India, FM's third market in Asia, Mr Descarpentries said the implementation of the goods and services tax (GST) had transformed the warehousing market, with most FMCG and retail customers consolidating operations into larger distribution centres.
"They're moving from 40 warehouses to 20 or 25 so for sure we have increased demand in Mumbai, Delhi and so on. I'm expecting a second consolidation step maybe in 5 years when the roads are better. The taxes are no longer a bottleneck in India but the roads are," he noted.
Mr Descarpentries said FM's strategy in Asia was to continue focus all its efforts and resources on China, India and Vietnam, rather than expand into new markets.
"We have so much to do in these three markets, so in the short term we will just focus, focus, focus."
In 2018-19, FM Logistic reported revenues of €1.3m, up 11.8% year on year. The group employs over 27,000 people.