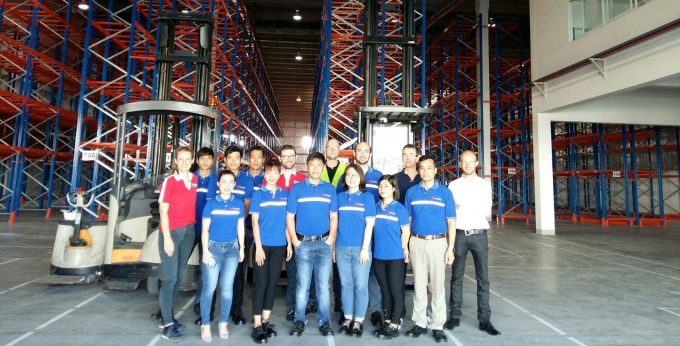 French 3PL FM Logistic has entered Vietnam's contract logistics market via a 5,000sq metre tri-temperature logistics site.
The facility, 20km from Hanoi, will support the distribution operations of long-term customer Auchan Retail in northern Vietnam where it has supermarkets and convenience stores.
Asia operations director Stéphane Descarpentries told The Loadstar FM Logistic has ambitions to be a leading contract logistics player in Vietnam within three years.
"Our goal is to develop quickly with our solution of multi-customer platforms," he said."We can really bring efficiency to customers through pooling human resources, warehouses and truck capacity."
In 2019, FM Logistic will open an additional 50,000sq metre facility in Hanoi to serve up to seven end customers, and in Ho Chi Minh City, a rented warehouse is planned for 2018, with plans to acquire land to open a similar, but owned, multi-client facility close to the southern metropolis.
Operations will include warehousing, transport and added-value services to FMCG clients, including multi-channel B2B and B2C deliveries. Freight forwarding will be provided through partners.
Vietnam is seen as a promising long-term market by the family-owned FM, now in its 51st year. It has more than 23,000 employees in 13 countries and revenue reached €1.1bn in financial year 2017, up 4.2% on the previous year.
"We have a spirit of entrepreneurship. So our strategy is to establish ourselves early in promising countries, as we did more than 20 years ago in Poland and in Russia," said Mr Descarpentries.
"Vietnam has over 90m inhabitants and one of the strongest economic growth rates in South-east Asia. Urbanisation, retail development and e-commerce will accelerate the professionalisation of logistics."
The move into Vietnam follows expansion into China and, more recently, India. FM Logistic has operated in China since 2005 and has grown organically to five multi-client warehouses serving retailers and brands such as Auchan, Carrefour, Unilever and Décathlon.
It entered India last year with the acquisition of Spear Logistics.
"The integration was a success, and now, after GST [goods and services tax] reform, we are opening multi-client warehouses close to the biggest cities, like Delhi and Mumbai," said Mr Descarpentries.
In Vietnam, he believes there is a lack of large and modern warehousing.
"That's why, in addition to partnerships with real estate developers, we will invest in our own buildings, starting with the 50,000sq metre facility in Hanoi."
With the expectation that e-commerce will continue its rapid growth rate in Vietnam, FM Logistic plans to develop a national transport network through local partners, ensuring warehouses can fulfil last-mile B2C deliveries.
Mr Descarpentries said that while transport management would be outsourced, investing in green technology such as electrical trucks for inner-city deliveries was a priority.
"Already in a few cities, like Paris, Rome, Madrid and Milan, we are developing green transport – electric or hybrid vans to deliver goods to small shops or final customers inside the city centre.
"We would like to set up a solution of green urban distribution in Ho Chi Minh City and Hanoi to make deliveries within the city centres without creating more pollution," he said.