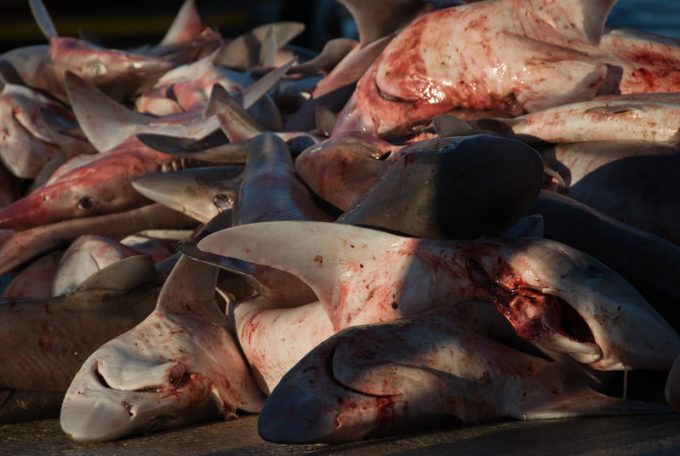 Ethiopian Airlines has denied it knowingly flew two shipments of shark fins from Ecuador, via Miami, to the EU and on to Hong Kong last month – but documents reveal that the shipments did fly.
While the law on the shipment of shark fins is extremely complex, and revolves around the type of shark and additional documents that may be required, many airlines have banned this cargo. 
The fins flew out of Quito on September 21 and, according to the air waybill, two shipments were sent under the name of Ferva Delivery. But a source in Quito said Ethiopian's capacity was controlled by AD Cargo in Madrid, and its agent in Ecuador. 
The source added: "This is a really disgusting trade, and this is not a good and moral operation."
Neither AD Cargo nor Choice Cargo in Quito responded to questions from The Loadstar. 
Ethiopian itself may not have known of the shipment. A spokesperson told The Loadstar: "Ethiopian airlines is not involved in shark fin shipments from anywhere in the world."  
When The Loadstar said it had a copy of the manifest and air waybill, which said 'aletas tiburon' or 'shark fin' was on flight ET3517 from Quito to Hong Kong, and which was confirmed by a handling company in Miami, the carrier failed to respond. 
Both shipments flew as 'Freight remains on board' (FROB) through Miami.  
And a local source said another shark fin shipment had been booked on the following week's flight, but was cancelled a few days beforehand – shortly after The Loadstar contacted companies involved.
"They got spooked," said the source. "It all got very serious. But all the market knows."
One source said Miami Customs was primed to inspect the shipment, but that has not been confirmed by The Loadstar. 
Multiple airlines, including those based in Asia where shark fins are popular food, have banned their transport. Research shows that between 73m and 100m sharks are killed each year by finning, damaging the marine ecosystem. A variety of shark species are threatened by finning, including the endangered scalloped hammerhead shark. 
While some GSAs indicated that it was a violation of law to transit shark fins via the US and EU, Miami Airport (MIA) said it was down to federal agencies. 
"MIA does not have a separate policy on transportation of shark fins," said Emir Pineda, manager, aviation trade & logistics, marketing division.
But he added: "The airport and its tenants are bound by US law/international law regarding the shipment of all items, whether transit or origin/destination. As far as I know it is illegal to import shark fins without the associated carcass of the shark. I am not fully aware if it is illegal to transit the US with shark fins.   
"There is not much we can do since this is regulated by federal government." 
Customs and Border Protection in Miami referred The Loadstar to the National Oceanic and Atmospheric Administration Fisheries (NOAA). A NOAA report last month cited Ecuador for "unreported and unregulated fishing activities". 
But a spokesperson for IATA said: "It is legal to transport shark fins and it is left to the airlines' commercial or moral decision.
"Nevertheless, such products have to be traded with CITES (the Convention on International Trade in Endangered Species of Wild Fauna and Flora) permits and evidence must be provided that they are harvested from a sustainable fishery, legally. Live Animals Regulations stipulate that it's the carrier's responsibility to verify the presence of required documentation. 
 "Some airlines have restrictive carriage policies and will only accept shipments when the shipper provides proof that the shipments are independently verified as being sustainable shark and shark-related products. Some other airlines will not carry shark fins." 
The law is equally complex in the EU. The flight landed at Liege, where, according to airport vets, if a shipment stays on the aircraft it is subject to a veterinary control check. It is not clear if this happened. 
According to the EC: "As far as CITES and corresponding EU legislation is concerned, it depends (as always) on the exact species, as some sharks are listed under the convention … but most are not. Those which are listed are (almost) all on Appendix II, where trade is regulated and monitored but not prohibited." 
 The EU reference guide on transit shipments states: "Specimens of species listed in the Annexes that are in transit between two 'third' countries (ie, two non-EU countries) do not need an import permit or notification for entering the EU or a re-export certificate to leave the EU.  
"However, for those species listed in EU Wildlife Trade Regulations Annexes that are also listed in CITES Appendices I and II, a valid CITES export permit or re-export certificate that clearly indicates the final destination of the shipment must have been issued by the exporting country.  
"Without such a valid (re-)export document, or proof of its existence, specimens must be seized and may be confiscated, provided that a document is not issued retrospectively." 
It is not clear what species of shark was involved, although one handler involved in the shipment said it was "very common that Customs requires export permits".