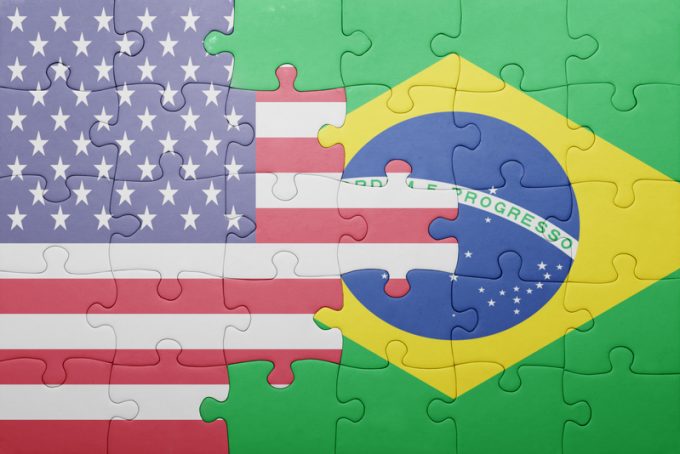 Miami's Interport Logistics expects a near 5,000% rise in its e-commerce volumes by the end of this year, following an exclusive agreement with the Brazilian government.
And this could rise further if other Latin American countries agree similar deals. 
The huge growth stems from Brazil's decision to designate Miami-Dade as the only US airport able to pre-clear e-commerce bound for Brazil.
After working on the project for five years with Miami, a year ago Brazil changed the law to allow customs pre-clearance, possibly the only such deal in the world. 
The Compra Fora platform allows Brazil's e-commerce users – whether shopping on eBay, Amazon, Mercado Libre or elsewhere – to order online from anywhere in the world.
The goods arrive in Miami and are cleared by Brazilian postal operator Correios at Interport's facility, using SinerlogUSA technology. The last mile is done by Correios. 
"Miami is the only airport in the world designated by the government for cargo pre-clearance," said Emir Pineda, manager, aviation trade & logistics marketing for Miami-Dade. 
"There are huge opportunities in e-commerce, which is growing at a tremendous rate of about 20% in Brazil." 
While the de minimis threshold is $100, customers only pay 60% of the applicable tariffs for purchases below $3,000, under a Compra Fora agreement, and no tariffs for pharmaceutical products worth less than $10,000, making it cheaper than e-commerce arriving directly into Brazil. 
"The discount is only available via Miami, so there is an economic advantage," Mr Pineda told The Loadstar.
"And it gives the ability to obtain products that could take six weeks to two months otherwise. It reduces transit time to a week or less. Brazilians love Chinese products but it would take six weeks to get a cellphone. This has enabled a massive middle class to access products more cheaply and faster." 
Interport's two receiving station facilities take up about 2,000 sq ft of space, and there is shelving over 5,000 sq ft of floor space for customs. 
"At some point in time, we can simply add another building," said Gary Goldfarb, chief strategy officer for Interport Logistics.
"We are currently moving approximately 200 orders a day, we expect 2019 to end at approximately 10,000 a day, and expectations of a run rate when the service is mature are between 20,000 and 30,000 orders a day." 
Interport has already hired seven employees for the scheme, which began in January, and will hire 10 more in the second quarter.
Interport offers a wide range of services, but Mr Goldfarb said: "While this new product is novel and unique, it fits right in with our reputation of always doing what seems difficult." He adds that it is planning to move into pharmaceuticals too. 
The partners are looking into how the returns process will work, currently an expensive undertaking in Brazil.
"The pre-clearance system would allow returns to Miami, and there is a possibility in the future of holding stock here, but this is still evolving," said Mr Pineda.  
Mr Goldfarb added: "We are working with Correios and Brazil Customs to identify the current legislation and what might need to be tweaked. Returns are cultural, in the sense that the consumers expect the ability to return in the US, but it is not necessarily something they do in other countries. It will eventually come to that, but it may not be something that needs to be implemented now." 
Miami is now working on similar pre-clearance deals with Argentina, Chile, Peru and Colombia. 
"We are already discussing pre-clearance with them now we have a benchmark," said Mr Pineda. "We believe it's a stepping stone to bring in larger distribution at Miami." 
One question is why Brazil would offer such an advantage to another country's airport and companies.  
"Brazil is very complicated," explained Mr Pineda. "This programme is less complicated. This is a one-stop shop." 
The deal is currently exclusive to Miami, for up to five years, and then Brazil may open other entry points.  
And it could be expanded, added Mr Pineda. "If it works for e-commerce, it could for general cargo, which is less complex as each box is an individual shipment, with an air waybill." 
Miami is having preliminary discussions with airlines in Asia, and it expects a handful of charters to cover any surge in volumes for now.  
"The carriers are all quite excited, there is a lot of potential new business," said Mr Pineda. "Both for those that don't already visit Miami and those that do. There is a lot originating in Asia but also in the US." 
Correios had signed a preliminary agreement for e-commerce with Brazilian passenger carrier Azul – but the airline yesterday said it had pulled out of the deal, following a huge rise in cargo revenues, which meant it wanted "the flexibility to enter other more favourable commercial agreements", it told media.