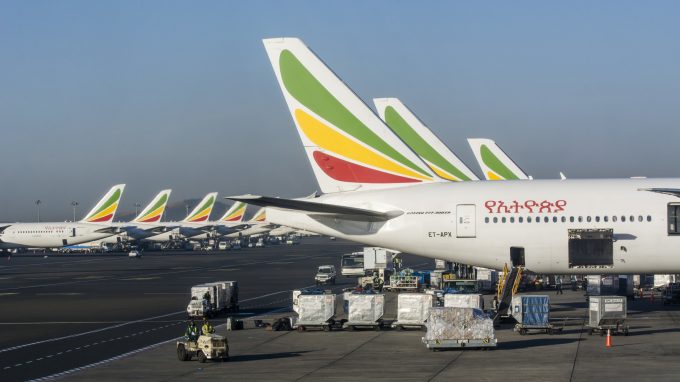 DHL Global Forwarding (DGF) claims to have become the first multinational forwarder to establish a presence in Ethiopia, following a joint venture agreement with Ethiopian Airlines.
The move marks what could be the start of increasing foreign investment in the country after attempts to reform the economy by the new prime minster.
Yesterday, the two companies agreed to set up DHL-Ethiopia Airlines Logistics Services, to be based in Ethiopia, but serve the whole continent.
The airline will take a majority stake and provide local knowledge in the form of regulatory and operational support. DGF will then establish air, ocean and road freight connections between Ethiopia's main trade hubs and the rest of the world.
Head of DHL's industrial projects team in sub-Saharan Africa, Pramod Bagalwadi, will lead the new organisation.
Tim Scharwath, CEO of DGF, said: "By bundling our global network expertise with Ethiopian Airlines' profound knowledge of the regulatory and operational environment, we are opening up an important access to international trade for  Africa's fastest growing economy, and at the same time strengthening our position in the African continent."
The new Ethiopian prime minister, Abiy Ahmed, has taken steps to reform the economy: he plans to sell minority stakes in state assets, including the national carrier and the Ethiopian Shipping & Logistics Services Enterprise, to foreign investors
In addition, Mr Ahmed and his counterpart in Eritrea have agreed to end the 'war' between the two countries that has been in abeyance since 2000, but relations had not been restored. Since then, Ethiopian Airlines has started operations to Eritrea and is in talks to buy a stake in Eritrean Airlines, which has one leased 737.
It is likely that foreign investors, looking for access to East Africa, will quickly flock to Ethiopia.
DGF and Ethiopian Airlines are already partners, the forwarder providing support for the carrier's maintenance operations since 2010.
"Logistics is key to support Africa's fast economic growth and industrialisation drive," said Tewolde GebreMariam, CEO, Ethiopian Airlines Group. "With this JV we aim to make the country a logistics hub for Africa."