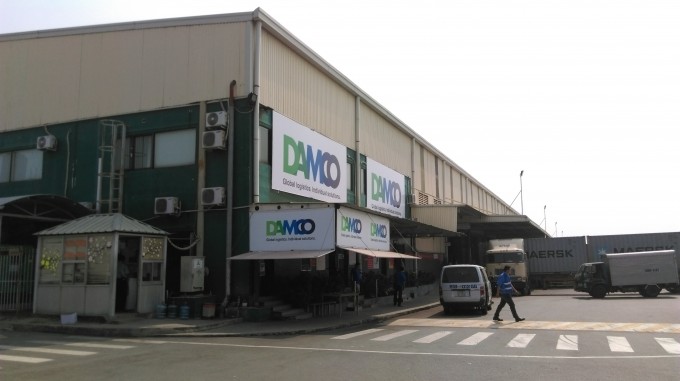 New free-trade agreements will mean more business opportunities for Vietnam's logistics industry, according to Marco Civardi, Damco's area managing director for Vietnam & Cambodia.
Speaking to the The Loadstar at his office in downtown Ho Chi Minh City (HCMC), Mr Civardi emphasised the need for scalable warehousing capacity in Vietnam, as manufacturers ready themselves for an expected trade boost from the Trans Pacific Partnership (TPP) – the free-trade agreement with the European Union – and the formation of the ASEAN Economic Community (AEC).
"We see increased Chinese- and Taiwanese-owned factories coming to Vietnam. They're expanding existing production here to be able to process more volume over the coming years as soon as the FTA with Europe and the TPP with the US comes into place.
"There's also a natural shift of production from China to Vietnam regardless of the FTAs, simply on the grounds of a compelling labour arbitrage," he explained.
Damco recently announced the expansion of its Southern Vietnam Logistics Center in Binh Duong province – a 37,150sq metre facility located 20km from HCMC.
The expansion follows the development of Damco's 11,500sq metre warehouse in Haiphong, another key growth market for the 3PL. Haiphong, which can now be reached from Hanoi in an hour following the completion of a new highway, is north Vietnam's major hub port and industrial zone.
Mr Civardi said Damco was experiencing "extremely strong growth" in northern Vietnam, because, with wages lower than in the areas surrounding the commercial capital HCMC, manufacturers are "more incentivised to shift some sourcing from south to north".
He added: "Exporting by Haiphong port is our main business, however we are also experiencing very strong growth in air freight volumes. Each year our business there is looking more and more important."
Damco now has 73,000sq metres of warehousing capacity in Vietnam across five sites. Mr Civardi said that the added capacity was in response to the needs and expectations of fashion and retail customers, the backbone of Damco's business in Vietnam.
A leading global footwear manufacturer, for example, now has around 45% of its production in Vietnam, according to Mr Civardi. Damco acts as an enabler to its sourcing strategy by coordinating various vendors while ensuring short transit times and optimised load factors for international consignments by air and ocean.
"Damco's approach is very much leaning towards supply chain management. It's about sharing in the customer's KPIs, helping vendors deliver cargo on time and in good condition, and how we can all work together as partners toward optimising supply chains. Essentially, we act as the 'right-hand man' of our customers," he said.
While fashion and retail has been the driving force behind Vietnam's manufacturing success and the subsequent uptick in port and airport throughput, increasing electronics production is having a greater influence on logistics.
"We are now penetrating into this sector, as it's not yet our core, but it's certainly high on our radar, with a mid-term outlook. Electronics manufacturing is the 'new kid on the block' in the Vietnamese manufacturing landscape," said Mr Civardi.
He noted how, in only a few years, electronics production has risen from a tiny percentage of exports to double digits, and that this, in turn, is placing new pressures on logistics capabilities, especially on air freight.
For example, a significant capacity expansion was needed to avoid bottlenecks at Hanoi Airport. And given current growth rates, capacity at HCMC's Tan Son Nhat Airport will be tested to its limits without a similar expansion, Mr Civardi predicts.
"There's been a call for action at HCMC airport because forecasts point towards double-digit growth in air freight volumes without yet factoring-in possible upsides deriving from the FTAs coming into place.
"So the data suggests that, by the end of 2017, the airport might run at full capacity, both for passenger and cargo. And if building a new airport in the south is going to take up to 2019 or 2020, then we need to ponder the airfreight industry's ability to process such substantial volume growth?" Mr Civardi said.