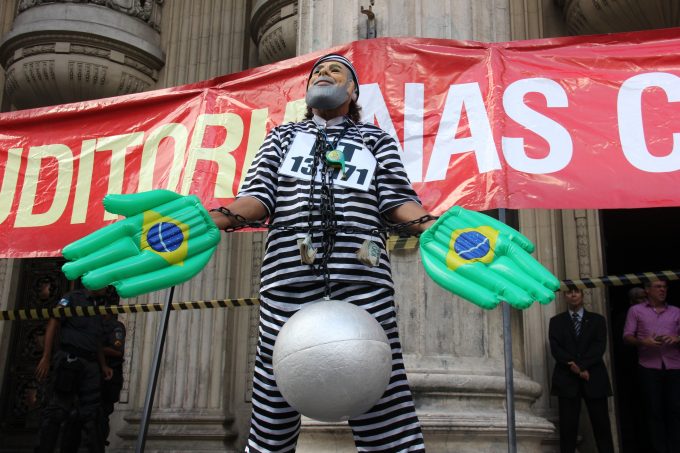 Brazil's transport sector is coming under increasing pressure from multiple strikes causing fuel shortages forcing cancelled cargo operations.
Last week, the country's customs officers began a 30-day walk-out over pay and, days later, trucking ground to a halt when drivers went on strike over increasing fuel prices, erecting road blockades in 25 of Brazil's 27 states.
One container line source said that while it had hardly noticed the customs walk-out, the trucker strike was "definitely the bigger topic" as all carriers operating in Brazil would likely be affected.
Brazil cargo director for KLM Renata de Souza Branco told The Loadstar flights had been cancelled after 11 of the country's airports ran out of fuel this week.
The impact included "no gas to fill cars, public transport reduced to a minimum, factory shutdowns, a lack of perishables and high food prices", added Ms Branco.
"We encountered some difficulties at Viracopos with aircraft fuel brought in by trucks, but it was well-managed and freighters kept operating."
On Sunday, president Michel Tumer announced a series of measures, conceding most of the truckers' demands, including exemptions for toll fares and fuel taxes.
The agreement will also see the establishment of a monthly, as opposed to recent daily, fuel price changes, the creation of a quota for autonomous trucks relative to driver numbers and a minimum freight fare for shipments.
Even so, Ms Branco noted, the impact of the strike would take days to clear and there could be more labour disputes on the horizon.
This may not be the end, as the favourable truckers' agreement is likely to prompt others to seek a similar deal," she said. "Several unions are expressing plans to stage strikes."
Amid the chaos, a spokesperson for Lufthansa Cargo told The Loadstar the airline was "doing its utmost" to keep services running, albeit, with some "minor changes".
The spokesperson added: "However, we had to cancel one flight departing from Viracopos, mainly due to very limited incoming cargo feed."
American Airlines has advised customers to reschedule all shipments to Brazil that have been booked, but yet to be collected.
However it assured them that shipments which have been tendered and accepted would be transported to Brazil to await the first available trucking service.