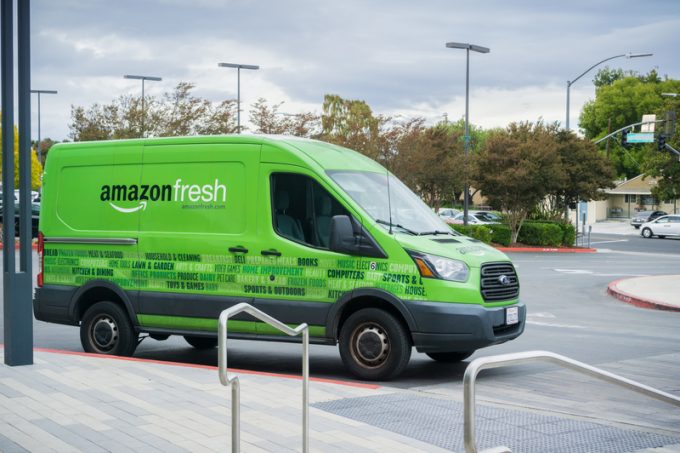 Amazon has shifted down a gear in its quest to dominate the food delivery sector, announcing it would be ending its AmazonFresh grocery delivery service on 30 November in areas of five US states – New Jersey, Pennsylvania, Delaware, Maryland and California.
The move still leaves AmazonFresh operating in New York, Seattle, Chicago, Boston, Miami, Dallas and Denver, but Amazon's rare reversal raised eyebrows, coming just two months after its $13.7bn takeover of Whole Foods.
According to some reports, the e-tailer has privately blamed the US Postal Service (USPS). While Amazon performs deliveries for some AmazonFresh business, in many locations this is outsourced to USPS, which allegedly made too many late or missed deliveries, and raised its rates in October.
However, Amazon has indicated that the economics of AmazonFresh had been tough in the affected areas. Customers pay $14.99 a month for the service on top of a $99 annual fee for Amazon Prime membership.
A McKinsey study, The urban delivery bet: $5 billion in venture capital at risk?, published in the summer, drew a stark picture of the market.
"Markets like groceries or non-food retail do not offer the same rare combination of high gross margins and high urgency like hot food does," it said.
"At average variable costs per delivery as high as $7 to $10, profitability will hence remain out of sight for these start-ups in the broader market."
The authors argued that many operators would have to revamp their setup by cutting portfolios and shifting to network-based consolidations while reducing point-to-point flows.
However, even the hot food sector has proved increasingly difficult. Last year, Foodora handled 4.5m meal orders, which generated revenue of €44.9m but an operating loss of €57.9m. Parent company Delivery Hero has said it expects to break even next year.
Food delivery company Deliveroo enjoyed a 611% surge in revenue last year to £128.56m, but losses were up 300% to £129m.
Horst Manner-Romberg, principal of parcel logistics research and consulting firm M-R-U, noted that there was no clear road to success in the online food delivery segment. He cited German grocery chain Rewe, whose management summed up its stance: "We don't know where this journey is going, but we have to be in there."
Efforts to counter the high costs of residential deliveries by offering click-and-collect schemes, or turning parts of retail outlets into warehouses, have struggled, with the available product range a major headache, Mr Manner-Romberg noted.
Despite shifting down a gear on AmazonFresh, the e-tailing giant is trying to boost the activity associated with the Whole Foods chain. At the end of last month, it notified non-perishable groceries suppliers that it would lower the fee on items priced under $15 from 15% to 8%. Clearly the set-back with AmazonFresh is not leading to a retreat in the online grocery business overall.
And others see ample room for growth in the sector: in China, ZTO Express expanded its fresh produce delivery service in August with two more high-speed rail links from Kunming in the south to Beijing and Shanghai. The move boosted its fresh produce network, launched last year, to eight high-speed rail links and 12 airports offering delivery within 24 hours.
Meanwhile, JD.com has moved to take a slab of fresh meat imports. This month it signed agreements to buy more than $1.2bn of beef and pork from US suppliers, citing strong growth in Chinese consumer demand.
Parcel delivery firms in North America also see scope for growth.
"Food and groceries are an area we've gotten in pretty heavily," said John Ferguson, president and chief executive of Purolator Courier, a subsidiary of Canada Post and the country's leading express operator.
Meals assembled at home have proved a strong segment and the requirement for fast transit matches well with Purolator's business model, he added.
Only groceries that do not require special handling are of interest, though. Ferguson has no intention of developing specific cold chain capabilities, he said.