While data published last week showed that June's air freight rates were depressed, it looks as if they are gently picking up again.
This morning the TAC Index showed that, while a number of routes in the past week had suffered slight declines, overall, rates were generally risen from June lows.
Hong Kong to Frankfurt crept up last week towards the HK$22.5 level, last seen in January, while Hong Kong to Amsterdam remained broadly flat after a significant rise in July.
HK to New York is also showing gains, but while HK-Europe and HK-US slipped slightly last week, the overall trend appears to be on the up, as would be expected at this time of year.
Shanghai to the US has seen solid rate gains, and is now back at January levels, with Chicago and JFK showing an upward trend.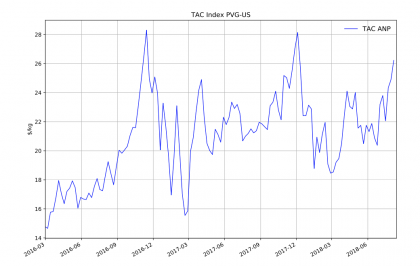 The gains, albeit slight, will cheer airlines following the dampened June data. Last week, IATA showed that year-on-year growth in freight tonne km (FTKs) slowed to 2.7% in June, down from 3.8% in May, and at almost half the average FTK growth rate of 5.1%.
IATA acknowledged that the June, and early July, market was distorted by the suspension of Nippon Cargo Airlines flights, but that the overall trends remained.
"The slowdown in the upward trend relative to that seen during 2016 and 2017 mainly reflects the fact that the inventory re-stocking cycle had largely run its course by the end of last year.
"Moreover, the loss of momentum in air freight demand is also consistent with the broad-based moderation in manufacturing firms' export orderbooks since the start of 2018."
IATA, which saw a 4.7% growth in industry-wide FTKs in the first half, now notes that overall gains for the year are likely to be lower, at 4%. And of course, there are some "unknowables" this year.
"With the best of the cyclical upturn now well behind us, the key question is how strong the structural backdrop for air freight growth is – especially in the context of rising trade protectionism measures," it said.
You can see IATA's full June results here.