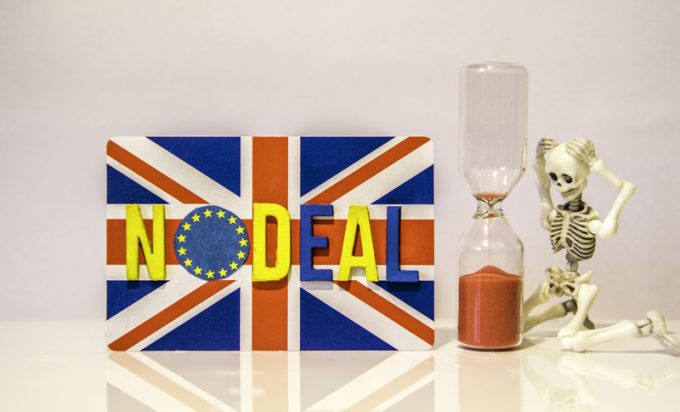 Politicians may be failing the UK, but the private sector has stepped up preparations for a no-deal Brexit, adding air freight capacity and new supply chains for the automotive industry.
In support of the saying that freight is like water and will always find a way to flow, today a partnership of Leipzig-Halle and Liverpool airports, together with Wynne Aviation Services, Jota Aviation, Airport Park Leipzig-Halle, Volga-Dnepr Group and handler Portground announced a Brexit contingency plan.
It will offer air freight services in the event that automotive just-in-time trucking supply chains get caught in Channel disruption.
Meanwhile, AirBridgeCargo and strategic partner Cargologicair also announced significant capacity additions to the UK from next month, to mitigate land-sea supply chain chaos in the event of a no-deal Brexit.
The Leipzig-Liverpool alliance is a continuation of Liverpool Airport's increasing focus on the automotive industry, while Leipzig is the third-largest automotive parts manufacturing region in Germany and supplies UK plants via trucks, daily.
However, the increased chance of trucking disruption in the event of a 'no-deal', has led companies from across the spectrum to form the alliance to ensure automotive parts continue to flow – via air.
While Volga-Dnepr Group, which has a base in Leipzig, has pledged its 737 freighters, currently being delivered to partner Cargologic Germany, the airline has yet to receive its AOC. However Jota Aviation, which began freighter operations in October with four Bae146s, is also on hand to deliver freight from Leipzig to Liverpool.
On arrival at Liverpool, Wynne Aviation Services will deliver the parts around the UK using its 40-strong truck fleet.
"Leipzig has loads of trucking from the automotive area, where there are lots of parts suppliers, in to the UK," said Andre Morrall, business development director, Airport Park Leipzig Halle.
"And Liverpool is trying to carve a niche for itself in the automotive industry. With the logistics park, airlines, trucking and handlers, we've created a one-stop shop for charter brokers and shippers to get goods into the UK. It's a full suite of Brexit support; with a system in place and ready to go.
"If there is a problem at the channel, what's the plan? So we've set up a supply line."
One major benefit is a 39,000 sq metre warehouse facility in Leipzig Halle, recently vacated by a furniture manufacturer.
"It's ready to rent, and we can get it bonded in six weeks if required," said Mr Morrall. "It's very rare to have warehouse capacity at an airport – and its cheap, at €4 per sq metre. This is the first deal of its type."
The automotive alliance is not the only organisation shoring up preparations for Brexit – and looking for opportunities.
From 15 March, AirBridgeCargo and strategic partner Cargologicair are going to substantially increase their capacity to the UK. The operation will rise from four times a week, to eight from 18 March, and then to 12 flights a week from 1 April.
Six, operated by CLA will go to Prestwick, and six, operated by both ABC and CLA will go into Stansted. CLA is also opening a new route to Doncaster. Flights to Heathrow will continue. The carriers will then provide trucking services throughout the UK.
"We've been ramping up capacity to create a Brexit schedule," said group commercial chief Robert van de Weg. "There is interest, and bookings are going up, but people want to wait and see first before they act. People don't want to spend extra if they can avoid it.
"And we have a degree of flexibility in this – we can delay or postpone it; we will follow bookings very closely."
The additional UK routes will cut back on trucking from Europe.
"We anticipate increased demand out of Asia Pacific direct into the UK, rather than via Amsterdam," said Mr van de Weg. "It could be a lifeline to the UK.
"For exports out of the UK, it will go back into the system via Frankfurt or Moscow. We are expecting a surge."
The final decision on airports came to a choice between Doncaster and East Midlands.
"We think Doncaster will have fewer bottlenecks, as East Midlands is busy with integrators. And Doncaster has the ability to upscale in the short term," he added.
To find out more about Brexit and its affects, come to The Loadstar Live Brexit Breakdown in Rotterdam, on June 19.