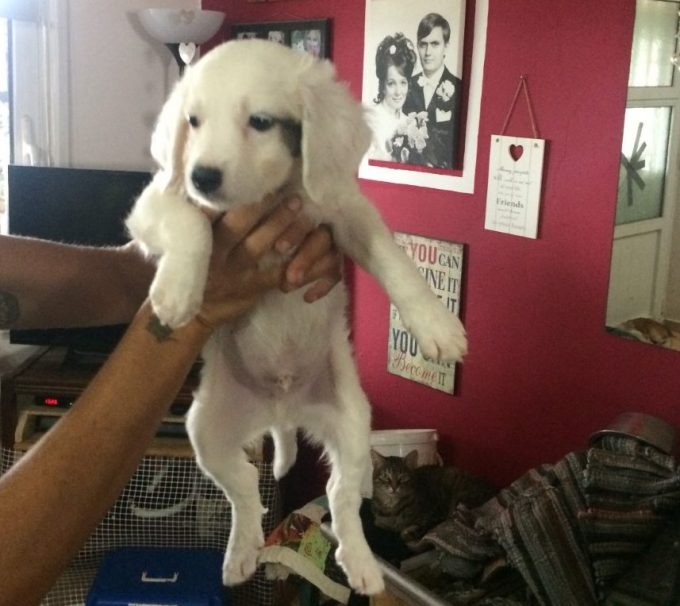 You've got to love logistics. It can move everything.
Yeti, a mixed breed, five-month-old puppy, was recently abandoned with his siblings in a basket outside a rescue centre in Samos, Greece. 
As luck would have it, The Loadstar operations director Arabella Tancred was on holiday on the island when the hotel receptionist mentioned the centre. Arabella met, and immediately fell in love with, Yeti. 
And that is where the adventure really started.
How do you get a rescue dog from Greece to the UK?  
Arabella's stepmother was booked to fly to the island with charterflights.co.uk, operated by Enter Air. Despite repeated attempts to get through to its cargo department, the carrier and charter company failed to help, despite some support from the chief executive, whom Arabella found on LinkedIn. 
"Basically I was sent back and forth between the two companies," said Arabella. "What I didn't realise, and nobody told me, is that you can't bring pets into the UK as you would any other country in the EU. They have to come in as cargo, which costs around £600, compared with, say, a German who would pay of around €50 to book a pet, as you would golf clubs, etc.
"It's so frustrating when all you get is 'no'."
But not all logistics providers say 'no'. Happily, a chance conversation earlier in the year with ECS Group about its new contract with TUI, had revealed that the GSA and TUI now frequently deal with pet shipments for tourists that can't be without their beloved furry friends, even for a couple of weeks. 
The Loadstar got in touch and ECS communications director Audrey Serdjebi immediately contacted Globe Air Cargo, which has a department specifically designed to move live animals in and out of the UK; "our super doggy service," said Ms Serdjebi. 
Globe Air Cargo agent Esther Santos-Sanchez explained that pets for travel need a 'pet passport', to be microchipped, vaccinated against rabies and have a veterinary health check no more than 96 hours before the flight. The AWB includes details such as breed, weight and dimension.
Within days, Yeti was booked on a TUI flight from Samos to Gatwick. The rescue centre's Sanna Ahonen dropped Yeti at SkyServ Handling Services in Samos airport and Arabella was waiting at Gatwick to retrieve Yeti from Animal Aircare, with her son – on his 14th birthday. 
The Loadstar and Yeti would like to thank ECS and Ms Serdjebi, Michelle House, managing director of Globe Air Cargo, and Ms Santos-Sanchez for all their support and efficiency in bringing Yeti home. 
Yeti is not The Loadstar team's first rescued dog. He joins the unlikely pair of mixed breeds, the massive Rocky (3.5 years, 42 kg on arrival) and tiny Lacy (4.5 years, and 1.5kg), who both joined the team last year. While Rocky is unable to get into The Loadstar's office, which is on a boat, Lacy arrives in a bag. Lacy is not keen on Rocky. 
And then there are two pedigree pets, raised from puppies: Anja, an 18-month-old German shepherd, and nine-year old Oakley, a golden retriever.
It's going to be a noisy company awayday…