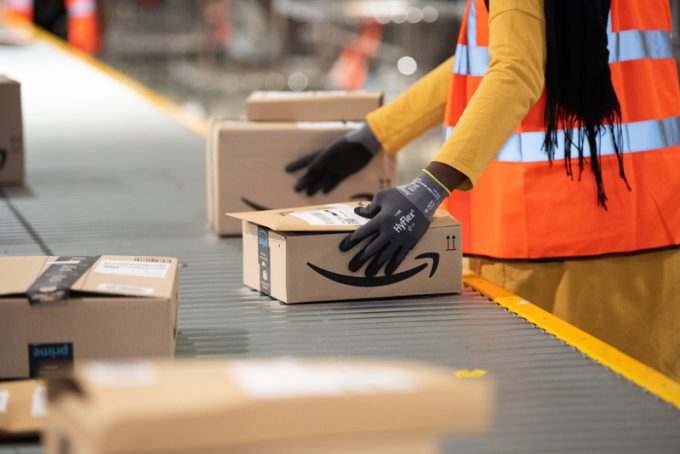 With the rapid proliferation of its fulfilment centres, Amazon is being blamed for the dearth of available warehousing capacity in the US market.
The online retailer has also sparked concern about available lift as it acquires more freighters and signs up capacity from all-cargo operators.
And the latest move in its relentless expansion is to embark on a hiring spree to recruit 75,000 logistics and fulfilment workers in North America.
Amazon will pay recruits an average starting wage of $17 per hour – just above the average blue collar gross salary in the US, according to SalaryExpert.
However, in addition, Amazon has indicated that many new hires would receive a $1,000 signing bonus, and it will give $100 to new staff who can prove they have been vaccinated against Covid-19.
As with warehouse space and trucks, the company's appetite for labour is voracious: it has hired some 200,000 workers since the outbreak of the pandemic.
In the market, competition for warehouse personnel is fierce. One executive of a large air cargo handling firm described manpower as "the biggest challenge right now perhaps for everyone in the industry".
Not only is it difficult to find new staff, but also very costly, as competition has driven up pay sharply. In some stations, the handling firm has implemented three or even four wage increases over the past 12 months, he said, with he added "no end in sight".
His company has resorted to an array of initiatives, from retention bonuses and hiring incentives, to going out into communities near airports for hiring events to tap new sources of labour.
The airfreight handlers' plight has not been helped by repercussions from the pandemic, particularly the increase in freighter operations, to compensate for the loss of belly capacity, and the surge in e-commerce. Handling freighters requires more manpower and e-commerce demands more space and labour than regular cargo, the executive said.
And the transport and logistics sector is competing with other segments of the economy for staff. According to the US Department of Labor, job vacancies exceeded hiring numbers by about two million in March,m when job openings reached 8.12m, setting a record going back to 2000.
Transport and warehousing has been particularly hit hard. It lost 89,100 jobs in April, and since December about 400,000 jobs in the sector have disappeared, although many were of a seasonal and low-paid nature. Statistics show that warehousing jobs in April were 71,200 below their peak level in November.
Employers have attributed their difficulties in attracting personnel to ongoing fears of Covid-19 infection, childcare responsibilities and unemployment benefits.
As far as fears of catching the coronavirus are concerned, Amazon is in the fast lane, reportedly offering on-site vaccinations at more than 250 locations in the US and Canada.
And importantly, the struggle for labour is affecting companies' ability to operate, and it hits their bottom line. The shrinkage of the US truck driver pool and the rise in remuneration has pushed up trucking rates. In the first quarter, the differential between US truckload and intermodal pricing was at a record high.