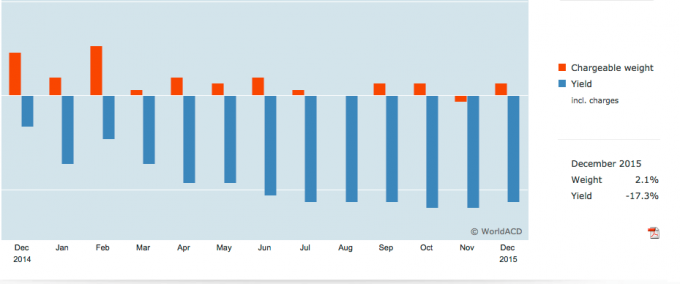 Yields in the air cargo market fell by a "whopping" 15% year-on-year in 2015, according to the latest data by WorldACD.
While the impact was mitigated by the falling cost of fuel, volumes increased by a mere 2% – even with the transpacific windfall at the start of the year.
Growth slowed through the year: from 4% in the first quarter, to 2.5% and then dwindled to just 1% in both the third and forth quarters. December saw an increase of 2.1% in volumes, however, while Europe was one bright spot. Growth rose from 1.1% in Q1 to 3% and 4% in the second and third quarters, while the last three months enjoyed an impressive 6% growth.
IATA's figures, out this morning, broadly reflect those of WorldACD. Air freight volumes, it said, rose 2.2% in the year. But load factors declined from 45.7% in 2014 to 44.1%.
It was, said IATA director general Tony Tyler, "a 'new normal' of cargo, growing in line with general rates of economic expansion".
"In 2016 we are not expecting revenue to exceed $51bn. Efficiency gains are critical as the sector adjusts to shortening global supply chains and evermore competitive market conditions."
UPS, announcing its fourth quarter results this week, supported the view that market conditions were still challenging in freight. Richard Peretz, CFO, said in an analysts' call: "Total export shipment growth slowed, reflecting the execution of … pricing initiatives along with varying market growth rates around the world. Imports from Europe into the US were strong for the fourth consecutive quarter aided in part by the appreciating US dollar."
But he added: "Organic revenue growth declined due to two factors: first, ongoing weakness in both forwarding and US LTL markets; and secondly, the continuation of our targeted revenue management actions.
"Market conditions continue to challenge UPS freight as they saw tonnage decline about 12%."
Jim Barber, president international, noted the "continued gap of demand and capacity".  And the management added that inventory overhang continues to dampen the market.
"US inventory sales ratio has come down slightly but it still remains elevated, certainly indicating we've got a continued overhang of inventories in the economy and customers are obviously attempting to work them down," explained Alan Gershenhorn, CCO.
However, UPS noted that despite a slowdown in freight, there remained considerable growth in some markets. CEO David Abney said: "Although the industrial side of the economy has slowed, the explosive growth of e-commerce continues to create great opportunity."
IATA's Tyler, meanwhile pointed out that modernisation would help boost the air cargo industry's value to its customers.
"The industry is moving forward with an e-freight transformation that will modernise processes and improve the value proposition. The faster the industry can make that happen, the better."