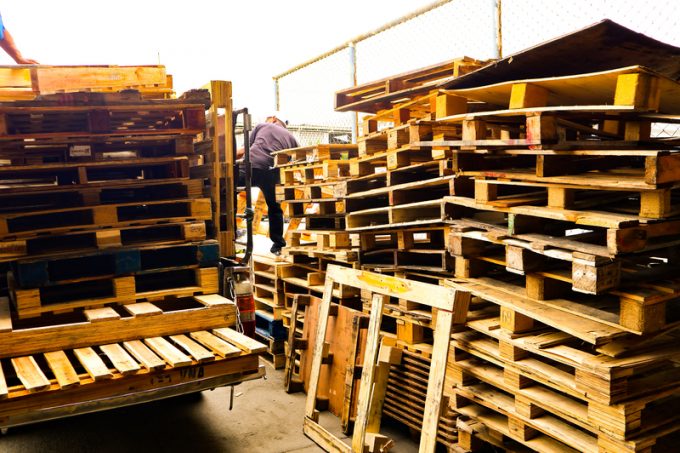 Forwarders are reporting a "serious" pallet shortage in the UK, adding to shipment costs.
Shippers and hauliers are having to buy new pallets, instead of sourcing second-hand.
One forwarder explained: "There are various reasons – there has been lots of stuff sitting on pallets in warehouses, as there is so much stock there.
"And during lockdown, pallet traders sold many to power stations to be incinerated just to get cash flow, depleting the stock nationally. This is a real issue."
Another forwarder said: "I understand second-hand pallets can be sourced through service providers, but there appears to be no interest in other pallet providers tendering for business at this time – which is likely to be a reflection of [a shortage]."
Second-hand pallet hire prices have increased, apparently by about 25p, when they could normally be leased for 33p a day. New ones can be bought for about £7, but one forwarder said this had now increased to more than £10.
Pallet supplier CHEP declined to comment on the second-hand market, but said a pallet shortage was "highly unlikely".
It added: "Our teams work to minimise disruption in the sourcing and management of our products, and keep a regular, transparent and proactive communication with our customers and partners at all times.
"We put a lot of emphasis on pallet rebalancing across the UK, Ireland and the continent and help ensure pallet availability, keeping supply chains moving."
Any pallet shortage is expected to be exacerbated by the ending of the Brexit transition period on 1 January, when it will become a legal requirement for all wood packaging moving between the UK and EU to be compliant with ISPM15 – currently not a requirement in the internal EU market.
ISPM15 incorporates phytosanitary requirements, which mean pallets need heat treatment of 56ºC for 30 minutes to kill bugs and pests.
Some 100m pallets are used in trade between the UK and EU, and there is concern that insufficient numbers of ISPM15-compliant pallets will be available.
Timber Packaging and Pallet Confederation president John Dye said he had asked the government for an extension to get sufficient pallets produced, noting in July that "it is ever more unlikely that the 1 January compliance date will be met".
The industry has faced setbacks from a lack of kilns, for the heat treatment, as well as Covid-19 adding delays.