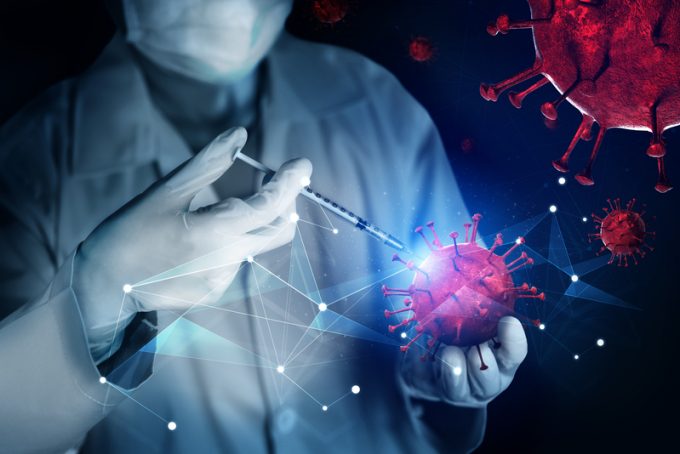 The good news of Pfizer and BioNTech's Covid vaccine has been tempered by the requirement that it needs to be stored at -70C or below – a tough challenge for the logistics business.
A recent survey by phamra.aero and Tiaca found that only 15% of respondents said they could handle vaccines that require -80C storage, while fewer than half those who said they could handle minus-zero, said they could do so in all their locations.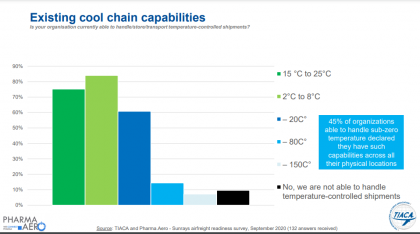 Initial results have showed that Pfizer/BioNTech's vaccine is 90% effective, according to initial results, triggering demand for the drug and, while it is not expected to be the only one, it looks set to be among the first vaccines to be rolled out on a big scale.
But logistics companies have already noted that temperature excursions are their biggest concern, followed by lack of adequate infrastructure.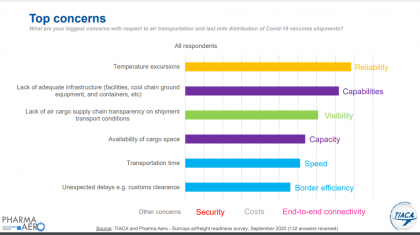 "To maintain supply chain integrity and temperature control from the manufacturing site for the entire journey will require all parties to work together," said Glyn Hughes, head of IATA Cargo, in September.
"The biggest challenge will be the final mile, and that's where the greatest focus is. We already have well-established procedures, but we will need to scale-up – they don't cover everywhere.
"In Africa for example, there are few passenger services and no real methods of distribution. It's too large, with too many borders, and you can't use road or ocean. It will need planning with military precision. One way would be to set up cool facilities at staging points throughout the continent.
"Aid agencies have incredible expertise in this. We would then work as an industry to deploy their plans."
Frank van Gelder, head of phama.aero, believes the whole process would take a few years.
"The roll-out model depends on agreements that different governments have secured with vaccine producers, and the number of vaccine dosages required for a treatment to reach immunity. Some might have secured in large volumes while some in regular batches.
"We also need to take into consideration where the first few batches of vaccines would be delivered. This would have impact on the cold chain capacity at destinations. Still, the expectation is that momentum will build as the vaccines producers increase production."
Pfizer told Reuters it had developed detailed logistical plans and tools to support vaccine transport, storage and continuous temperature monitoring.
"We have also developed packaging and storage innovations to be fit for purpose for the range of locations where we believe vaccinations will take place," it said.
But many countries don't have the facilities to store vaccines at that temperature – even wealthier ones such as Japan. One infection control manager in Tokyo told Reuters storage would be "a big challenge".
The manager added: "I'm not sure how well prepared our government is with regards to maintaining the cold chain. Hospitals in Japan usually do not have ultra-cold freezers, but I think it's high time we started thinking about the logistics for the vaccine."
Medical freezer companies said demand had jumped about 150% this year.