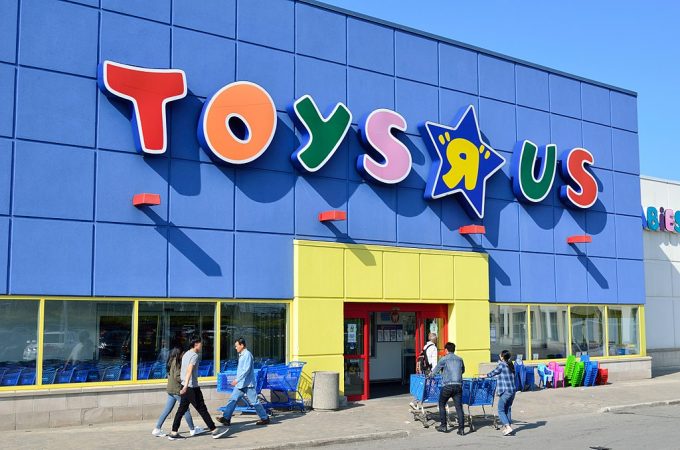 Toys R Us last night filed for Chapter 11 bankruptcy protection. It has debts of some $51.2m for shipping and storage and expects a further bill of $35.9m.
It has some $243.2m-worth of merchandise currently in transit, the majority being shipped by APL Logistics.
The toy store was forced to file for protection in the US and Canada after it claimed a news story this month questioning its liquidity had resulted in suppliers refusing to ship product without cash on delivery.
It claimed the article "started a dangerous game of dominos".
It added: "Within a week nearly 40% of the company's domestic and international product vendors refused to ship product without cash on delivery, cash in advance or, in some cases, payment of all outstanding obligations."
The company said that instead of its normal 60-day trade terms, these demands would mean it must immediately obtain more than $1bn in new liquidity.
The Chapter 11 filing adds: "The timing of all of this could not have been worse, as the company is in the process of building holiday inventory…in the fourth quarter, the company generates approximately 40% of its annual revenue."
It noted that September was key for significant increases in inventory.
CEO David Brandon wrote: "I believe it is critical that the company reopen its supply chain immediately to ensure a successful holiday season."
He added that with 90% of Toys R Us stock emanating from China, it was critical that the supply chain was back in operation immediately, fearing the Chinese holiday week beginning October 1 would cause an extended delay in shipments.
Toys R Us applied for authority to pay certain vendors, including its shipping, warehousing and forwarding suppliers, and was granted permission to pay up to $151.4m.
The filing also explains in detail the shipping process. APL Logistics coordinates inventory purchases and advises the manufacturer on how to get goods to the port. Within 48 hours they are on the ship, when Toys R Us takes ownership. For US-made products, ownership happens when products are placed on a truck. Inventory could be delayed if payment is not made, noted the company.
Toys R Us operates 18 distribution centres, eight supporting domestic operations and ten for international. In the US, the company uses JB Hunt Transport, Performance Team Freight Systems and DHL Supply Chain to manage warehouse operations and deliveries to their stores.
Toys R Us blames its predicament in part on competition and price wars.
"During the 2016 holiday season, big box retailers slashed prices on toys and flooded marketing channels, knowing that if they can get consumers in the door to purchase attractively priced toys, they can make up for decreased toy revenue with other in-store purchases.
"Further, online retailers such as Amazon are not concerned with making a profit at this juncture, rendering their pricing model impossible to compete with for a company such as Toys R Us."
The company said it "did not engage in this race to the bottom".
The filing sets out the Toys R Us strategy for the future, which includes better use of its stores, allowing children to play there, and developing in-house apps with reality video games. It also plans to invest $90.3m in its online presence and ecommerce capabilities between 2018 and 2021.
It says: "Customers want their purchases delivered as quickly as possible. To increase delivery speed and streamline their packing-and-shipping operations, the debtors plan to invest $117.8m in capital expenditures, $37.6m in selling, general and administrative expenses, and $104.8m in margin investment…
"This substantial investment will remodel the debtors' supply chain infrastructure, increase the debtors' ship-from-store capacity and decrease delivery time to customers."
The company also plans to invest $82m international operations in Canada, Europe and Asia.
Toys R Us was acquired for $6.6bn in 2005 by KKR, Bain Capital and Vornado Realty Trust, a move which saddled it with debt, including $400m which matures next year. It's the second-largest retail bankruptcy, after Kmart, with assets of $6.9bn.