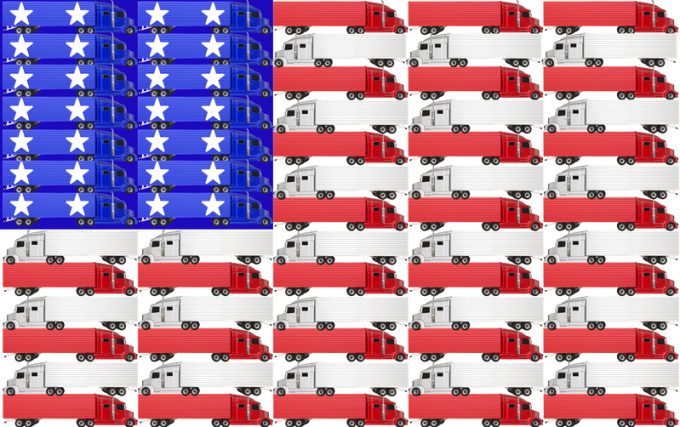 There was a huge sigh of relief as the court overseeing the bankruptcy proceedings of Celadon Group said it would allow the trucking firm's fleet to pay $5.4m in owed compensation to its drivers ahead of finalising what the company owes its creditors. 
Celadon Group's 9 December bankruptcy was the largest ever for the trucking sector, leaving more than 3,000 drivers jobless, and followed an estimated 800 carriers that have gone out of business so far this year, according Broughton Capital – more than double 2018 figures. 
A number of issues have plagued the US trucking sector this year, including management of capacity, increased costs and lower spot rates (although we've recently seen an upswing).  
This highly fragmented sector – the 50 largest trucking firms representing only about 38% of the market, according to SJ Consulting Group and the American Trucking Association (ATA) – has been prone to a number of bankruptcies, closures and consolidation over the years. But despite the upheaval, bills still need to be paid, as do truck drivers and other employees. 
3PL provider LoadDelivered, acquired by Capstone Logistics last year, has launched QuickPay+, a free, one-day payment solution to help carriers improve their cash flow.
Jon Ackerman, vice president of carrier procurement at LoadDelivered, claimed: "QuickPay+ is one of the industry's fastest ways for carriers to get paid.
"With standard net 30 or net 60 payment terms, carriers run the risk of inadequate cash reserves to pay bills and employees. QuickPay+ gives our partners the cash flow they need within 24 hours of submitting paperwork, without any fees or hassles."  
Although free, there are a few conditions. To maintain QuickPay+ status, a carrier must: 
haul at least seven

 loads for LoadDelivered over  the past 30 days; 

 

have ac

tive

 visibility integration

 

and/or an average of 90% compliance over the past 30 days (preferred vendor is 

Macropoint

);

 

have clean and complete paperwork submitted with proof of delivery (POD)

.
Compliance is evaluated on the last business day of each month.   
Certainly, offering a much-welcomed service is a good way to attract and keep carriers, and perhaps this will allow LoadDelivered to stand out among the many freight brokers  in the midst of developing strategies to attract and keep carriers. 
However, it's difficult to stand out in a market which more drivers are leaving than entering. And the average age of a driver is about 55, and few are able to stick it out in times both good and bad  – and right now times aren't so good.  
Meanwhile, shippers, carriers and drivers are all using several truck brokers in order to find the best loads. How to differentiate oneself? 
Uber Freight, for example, has partnered with companies such as Comdata to offer Uber Freight Fuel Cards: with Ryder for up to 30% discount on pre-owned trucks for purchase; and Navistar for its Fleet Charge credit card and maintenance programme that offers carriers 20-50% savings off the cost of parts.
Through JB Hunt's 360 programme, drivers receive fuel discounts, discounts on preventive maintenance, labour, parts, and tyres from Pilot Flying J Truck Care and discounts on Goodyear products and services. 
LoadDelivered's offering appears a nice, sticky solution that can keep a carrier for a longer period of time, at least for seven loads in 30 days. In addition, offering its own visibility solution via partner Descartes makes for easier and quicker connectivity. And the data LoadDelivered and Descartes can access is probably an added bonus. Still, for carriers that may struggle with access to funds to make ends meet, this is certainly a nice service offering.