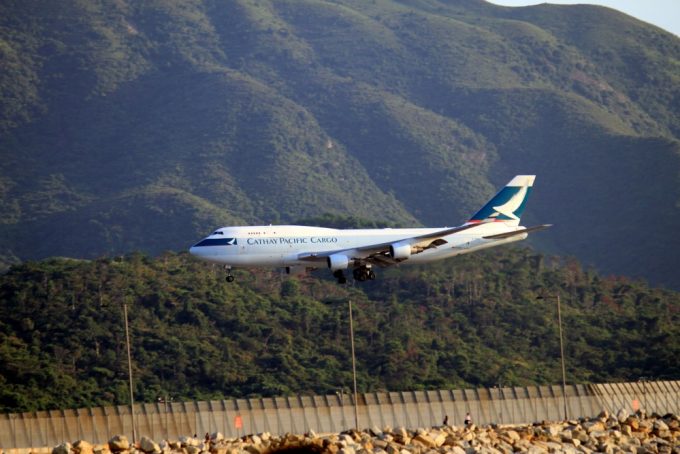 UPDATED 22.10.21 TO INCLUDE HACTL RESPONSE
Hong Kong International Airport (HKIA) and Cathay Pacific Cargo have both reported strong September volumes, but a recent Covid case slowed the hub's handling operations.
HKIA said imports and exports had both increased by double figures, with total throughput up 17.9% year on year, to 455,000 tonnes.
"Cargo to and from North America and South-east Asia experienced the most significant increases during the month," it said.
Cathay Pacific said September had been the busiest month for cargo since the Covid crisis began, carrying 130,997 tonnes, up 19.7% year on year, but still down 24.1% on the same month of 2019.
Chief customer and commercial officer Ronald Lam said: "Cargo demand continued to grow as we stepped into the traditional cargo peak season. To meet this demand, we operated our freighter fleet at peak capacity through September, supplemented with additional cargo-only passenger flight operations, which surged 20% on August."
Hong Kong Air Cargo Terminals (Hactl) reported a Covid case this month, however, which caused delays at the airport due to increased staff restrictions and a lack of manpower, according to forwarders.
Bansard International said the incident "created some flight cancellations last week, as the terminal does not have enough manpower to load the aircraft. As a backlog builds we are expecting airfreight rates to be further increased this week. A waiting time of three-to-five days is expected in the terminal."
And, according to Uniserve, Emirates' freighter schedule this week was "changed or cancelled due to a lack of staff at Hactl."
The forwarder added: "Other airlines could follow suit, with resulting capacity issues to hit within the next couple of weeks."
But Hactl told The Loadstar that less than 5% of its workforce had had to quarantine, and 80% of flights were unaffected, with no impact on terminal operations. It said there had been "no delays of three to five days at any point".  
"We have mitigated the staff shortage through increased overtime, and sub-contracting some duties to other airport operators. The situation is gradually getting back to normal, and our staff will be released from quarantine within the next six days.
"We are, of course, very sorry for this departure from the high standards which the market normally expects from Hactl."
Flexport said demand and rates ex-South China were continuing to rise for both transpacific eastbound and westbound lanes.
"Hong Kong-US capacity is full for the week, with ocean-to-air conversions still prevalent in the market," the company noted.
Furthermore, the airfreight market's high demand and tight capacity has created bottleneck's elsewhere in South-east Asia. Flexport said Taiwan's capacity was "very tight", with strong demand for the remainder of the month and booking delays of up to a week, due to congestion.
Thailand and Vietnam are hotspots, too, Flexport said, noting: "The Bangkok market continues to be very tight, with some carriers only able to accept palletised cargo to Los Angeles and New York mid-November, and loose cartons are preferable. Far East westbound rates have increased, as many of the airlines are overbooked and the remaining capacity is very limited.
"Terminal operations ex-North Vietnam are extremely congested. All the airlines are overbooked, especially to Atlanta, New York and Frankfurt. Rates will continue to climb until the end of November."
Anger as Cathay Pacific Cargo adds GRI to blocked space agreements