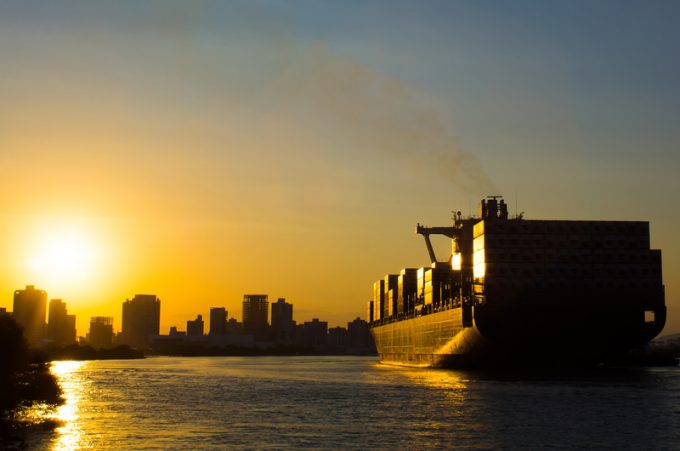 As China's Golden Week national holiday comes to an end, container shipping spot rates on the main east-west trades have remained flat.
According to today's Shanghai Containerised Freight Index (SCFI), spot rates on the Shanghai-North Europe trade fell a marginal $19 to $1,149 per teu.
On the Shanghai-Mediterranean route, the decline was just $9, to end the week on $1,202 per teu.
Year-on-year comparison demonstrates just how remarkably strong the carriers' position on the trade has become – at this point last year, the spot rate to Northern Europe was $581 per teu, with the SCFI reporting average vessel utilisation of 85% on ships departing Shanghai.
According to the eeSea liner database, carriers have blanked 13 of the scheduled 97 Asia-North Europe sailings this month – representing a 14% reduction in terms of teu capacity.
However, there has not been a single blanking announcement for November's 77 scheduled sailings, according to eeSea.
And while vessel capacity is expected to ease for shippers and forwarders anxious to get cargo into Europe before Christmas, the focus will likely turn to container availability, according to Martin Holst-Mikkelsen, head of ocean freight EMEA at Flexport.
He told The Loadstar today: "The space situation has improved out of the Asian baseports, and we see space becoming available a week out from most ports, while rollings have become less of an issue recently.
"Equipment remains a challenge for the majority of carriers, especially in the South China region, whereas we have seen this improving in Shanghai and Ningbo," he added.
A picture of continuing strong demand and stable spot rates was also seen on the transpacific: Shanghai-US west coast rates fell just $15, to $3,848 per 40ft, while the Shanghai-US east coast SCFI rate was unchanged at $4,622 per 40ft.
Although actual throughput numbers have yet to be published, forecasts from the US National Retail Federation said September imports were expected to reach 2.08m teu, a 10.9% year-on-year climb, and the second-highest month ever.
NRF vice president for supply chain and customs policy Jonathan Gold suggested the demand had be driven by changing consumer behaviour in the wake of the pandemic and retailers responding with higher inventory levels.
"After staying at home this spring, consumers are buying again and retail supply chains are working overtime to keep up with demand," he said.
"Nothing about this year is predictable, but retailers are making sure their shelves and warehouses are well-stocked for the holidays. But they are also stocking up earlier than usual, because they know many consumers will be shopping early to avoid crowds and shipping delays.
"Some holiday merchandise that normally wouldn't arrive until Halloween is already here," he added.