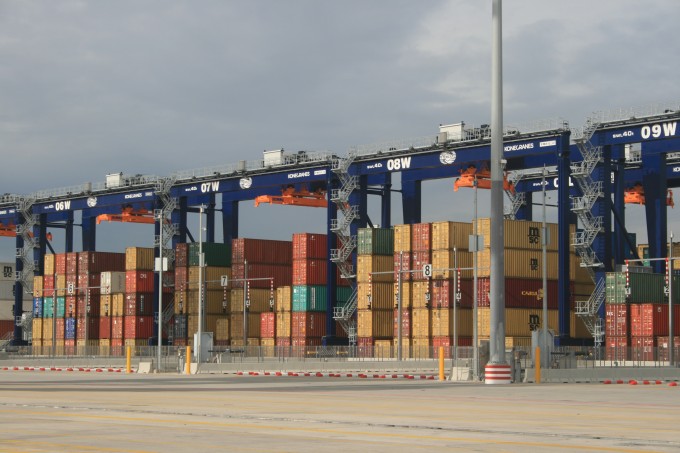 Global container port operators have been warned they face diminishing returns and reduced profitability as a result of the deployment of larger vessels by bigger alliances, combined with stagnating volumes.
Drewry Maritime Advisors said yesterday that while container port volumes increased by an average of 11% in successive years, as Chinese containerised exports poured out to foreign markets, since 2009 that growth had reduced to around 5% a year and could decline further as growth in the Chinese economy stalls.
Global port container volumes growth could be as little as 1% in 2015 and is predicted to be 2.5% this year, said Drewry.
"The global container port and terminal industry is on the cusp of a critical turning point. To safeguard the provision of suitable capacity and productivity for the long term, changes will have to take place to ensure sufficient returns on investment for port operators. Something has to give," it added.
And with rapid increases in ship sizes across all trades, caused by vessel cascading, Drewry believes few ports will remain unaffected as returns on invested capital come under increasing pressure.
"In a low growth demand environment, the deployment of bigger ships results in lower frequency services and greater volume peaks. For terminal operators, capex and opex [operating expense] costs are increasing while demand is relatively static," it said.
In addition, the evolution of the four main east-west container shipping alliances presents a further headache for terminal operators.
"The formation (and re-formation) of larger carrier alliances means that, for ports and terminals, the size and complexity of each customer (alliance) is increasing, along with their bargaining power," it said, adding that this was likely later this year when the next game of musical chairs between alliance partners is expected.
One tactical response, it suggested, is for terminals and carriers to forge closer relationships to improve productivity and level out the volume peaks and troughs of serving larger vessels and alliances.
"This will undoubtedly help, but is unlikely to solve the problem entirely," Drewry warned, however.
Another tactic may be to charge higher handling rates, which would be resisted by shipping lines, while the opposite – to cease investment in new terminal capacity because the returns are unacceptable to shareholders – would be an "extreme option that will, in effect, leave shipping lines with nowhere to berth their large ships".
Or they could simply accept that a new era of low margins has begun, which may result in some investors leaving the market and may come as something of a shock to more recent market entrants, especially given that their interest in the market has sparked a recent rise in port company valuations.
"Companies such as China Merchants, Gulftainer and Yilport have been highly active. Purchase price multiples, which had come down to moderate levels after the excesses of the credit boom period in the mid-2000s, have begun to edge up again," it said.