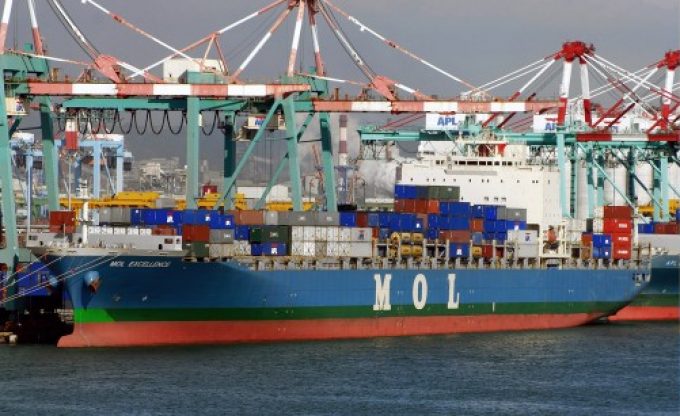 The idled fleet of containerships is set to grow rapidly in the coming weeks as owners decide to park redundant ships after their time charters expire, rather than scratch around for employment on a hugely depressed spot market.
According to the latest data from Alphaliner, there are currently 269 container vessels in lay-up equating to 906,167 teu – or 4.5% of the global cellular fleet – of which 90% are owned by non-operating owners (NOO).
This compares to 127 ships for 345,916 teu that were idled at the end of July last year, reflecting the sharp deterioration in the charter market over the past 12 months.
A disappointing peak season and the accelerated off-hiring of Panamax ships following the opening of an expanded Panama Canal in June are expected to see idle capacity levels soar past the 1m teu mark over the next few weeks.
Last week, Singapore containership owner Rickmers Maritime Trust (RMT), reported a disastrous net loss of $57m for the first six months of the year as it battled to stay afloat in severe market conditions.
It said that it was "likely to face even stronger headwinds" from the impact of a depressed market compounded by Panamax vessel redeliveries, which were driven by the upsizing of the Panama Canal.
RTM chief executive Soeren Andersen said: "We have 11 [Panamax] vessels trading in the spot market, and we need to take practical measures and actively consider decommissioning some of these vessels by laying them up when they are redelivered."
The Panamax sector has been hardest hit by the demand downturn, with 85 of the 269 vessels in Alphaliner's idled tonnage list made up of ships of between 3,000 teu and 5,100 teu. This compares to only 10 Panamax containerships in lay-up a year ago.
Meanwhile, it appears that Seaspan, the biggest containership non-operating owner, has decided that the Panamax charter market is unlikely to improve anytime soon.
According to shipbroker reports, the NYSE-listed container vessel lessor has sold its 2003-built 4,646 teu Seaspan Excellence (previously known as the MOL Excellence) for a sum reported by vesselsvalue.com as $280 LDT [light displacement tonne, the measure used by scrap buyers], equating to a total demolition value of $5.96m.
The deal gives a useful snapshot of the container chartering market – Seaspan bought the vessel from MOL in March 2013 for $17.2m, only to be forced to sell it for scrap for $11.25m less than it paid for it just three and half years later, and at least a decade before the end of its operating lifetime
The sale of this 13-year-old containership for scrap is one of the youngest so far; but if the market does not show signs of improvement it would seem only a question of time before 10-year-old Panamax container vessels are being consigned to the breakers yards.
The number of containerships sold for demolition this year has reached over 100 vessels, according to shipbroker Braemar ACM.
Its records show at 101 ships equalling 342,500 teu – including 11 ships sold for scrap in the past week – have been sold so far this year, easily surpassing 2015's total, which stood at 85 vessels equating to 187,500 teu.
However, in the past year vessel deliveries have added 1.27m teu of new capacity and although there has been a dramatic fall in the containership orderbook since the beginning of 2016 Alphaliner estimates that it could take three more years to absorb the current orderbook, which stands at 3.48m teu.