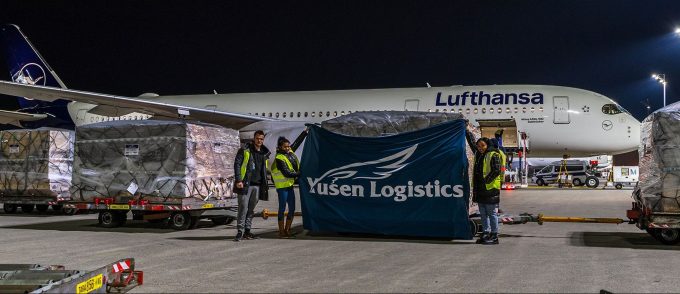 The use of passenger aircraft to fly cargo-only is expected to continue this year, with Covid still hindering passenger operations and Russia's invasion of Ukraine limiting freighter capacity.
"The impact of the sanctions is significant," said Pierre Van Der Stichele, VP global freight at broker at Air Partner.
"Freighter capacity has already been heavily reduced by the pandemic and remains in high demand; the disappearance of additional capacity due to sanctions only exacerbates the challenges facing the air cargo industry.
"There is no real replacement capacity [for ABC's aircraft] available in the immediate term. In the long term, the sector will have to adapt to meet the surging demand and seek alternative routes and aircraft."
Variously called cargo-in-cabins (CIC), preighters, or passenger-freighters, the trend over the past two years to boost cargo capacity by using under-employed passenger aircraft, looks set to stay, to some extent, while rates remain elevated.
"We've been using seats-out capacity for a while," said Dan Morgan-Evans, global director cargo for broker Air Charter Service.
"While rates hold, as long as it makes sense those aircraft will still be available – if the dispensations for using them are. I think they'll continue, with the market as it is."
Air Partner is offering options on A330-300 preighter aircraft to its regular forwarder clients, added Mr Van Der Stichele.
"Some preighters are currently in a re-conversion phase. However, following the Ukrainian crisis and sanctions imposed on Russian carriers it is likely some carriers may reconsider this process/"
Mr Morgan-Evans said while rates were softer than during the peak at the end of last year, a transpacific charter would likely still set you back about $1.5m, about half what it was in early December and still viable for a passenger aircraft flying cargo.
The exemptions by regulatory agencies in the US and Europe are scheduled to end in July, but so far the authorities have listened to requests by airlines.
Virgin Atlantic has been one of the main providers of passenger capacity for cargo. It told The Loadstar it had resumed cargo-only flights to Hong Kong and Shanghai and was "operating multiple weekly services to Brussels, in line with demand".
Lufthansa Cargo said it too would operate some 'preighter' flights, depending on demand.
"Every now and then we still do freight-only flights. That happens when we have a special customer request for more capacity on a special routing. This month we sent an A350 from Munich to Tokyo for Yusen Logistics, for example."
Yusen, impacted by the sudden lack of capacity between Europe and Japan following overflight bans, said: "To keep our service and quality promises to our European customers, Yusen Logistics Germany booked an A350-900 round-trip full charter via MUC-HND-MUC at short notice with the help of Lufthansa Cargo. Upcoming charter flights are already planned."
Meanwhile, dnata, which earlier this month told The Loadstar of the challenges involved in CIC handling, also said it expected to see cargo-only flights continue.
EVP Steve Allen added: "Due to shortage on the shipping side, we are likely to see demand rise over 100% on 2019 levels. The pandemic hasn't finished in China, and the buying of CIC capacity is going to continue. And the second thing is the shortfall caused by the embargo on Russian freighters."
Mr Morgan-Evans added that the market was always quick to adapt, and that if needed, the flights would remain.
"The past two years have thrown us a lot of curveballs, and we are learning to adapt very fast – you have to. It's what we do, but it's never been on such a scale before. And then Putin kicks you when you are down."