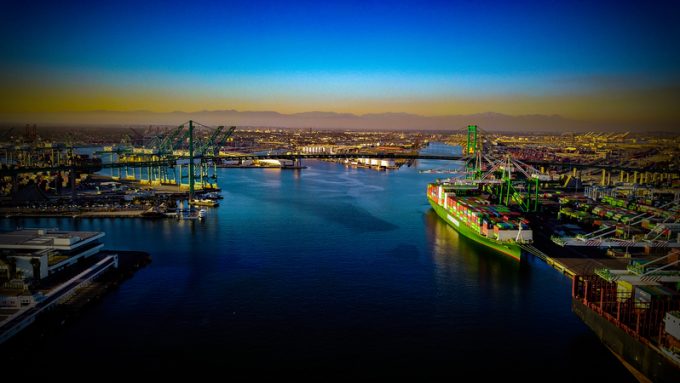 Retailers are concerned about delays to their holiday merchandise, as robust import volumes are straining the US west coast gateways.
In particular, they claim, the port complex of Los Angeles and Long Beach is already struggling with lengthening transit times.
According to the Port Tracker report, published monthly by the National Retail Federation (NRF) and Hackett Associates, US container ports handled 2.1m teu of imports in August, up 9.7% month on month, and 8% year on year, to reach the highest monthly level on record.
The brunt of this wave of imports has hit the LA/LB complex, and increased further last month as Los Angeles recorded its strongest September tally in its history, its teu count up 13.3% from a year earlier.
And whereas it handled 627,000 teu on average every month in the first half of the year, this jumped to 900,000 teu in the third quarter.
At Long Beach, the container count was up 12.5% year on year in September.
Up the coast, the port of Oakland reported a 10.6% surge in imported containers on September 2019, to 93,916 teu, which smashed the port's previous monthly record of 84,901 teu, attributed to retailers stocking up for the holiday season.
"We continue to see the replenishment of warehouse and distribution centre inventories, along with retailers prepping for year-end holidays," said Gene Seroka, executive director at the port of Los Angeles.
September US retail sales were up 1.9% on August and 5.4% year on year, led by non-store retail (largely e-commerce), which was 23.8% higher than a year earlier.
The surge in e-commerce has been widely identified as the reason for the disproportionately strong surge of cargo flows through the west coast ports, as transit times from Asia to the US interior are faster than routings via the Atlantic or Gulf ports. And faced with soaring airfreight rates, many e-commerce shippers have embraced expedited ocean services to Los Angeles and Long Beach.
And, burned by stock-outs in the spring, retailers have been building up inventory, lest they face a repeat of that experience and lose business to competitors.
NRF VP for supply chain and customs policy Jonathan Gold said in Port Tracker: "Retailers are making sure their shelves and warehouses are well stocked for the holidays. They are stocking up earlier than usual because they know many consumers will be shopping early this year to avoid crowds and shipping delays."
But Port Tracker predicts a slowdown to 1.86m teu in October, down 1.1% year on year, and foresees further decline in momentum for November (down 5.1% year on year to 1.61m teu) and December (down 11.2% to 1.53m teu). This would add up to 20.5m teu this year, 4.9% lower than in 2019.
However, other predictions are more bullish beyond October.
"The NRF is predicting October volumes to be only 1% behind last year. And though they expect a drop-off starting in November – possibly impacted by the delay of additional government stimulus – there are other indications that restocking and pre-ordering of spring shipments ahead of Chinese New Year in February could keep volumes elevated into next year," said Eytan Buchman, chief marketing officer at Freightos.
CRM service provider Salesforce predicts a massive surge in online shopping during the holiday season, with 30% growth globally and 34% in the US. The ensuing volume of shipments will likely exceed available capacity by 5% and lead to delays of up to 700m packages, it warned.
Some carriers have indicated that they anticipate strong volumes through the remainder of this year. Despite the reinstatement of blanked sailings and the deployment of additional loaders, cargo terminals at Asian transshipment hubs have continued to see high roll-over rates (in excess of 30% in Singapore, Ningbo and Pusan), which are expected to continue well into the fourth quarter. This also suggests continuing heavy volumes and congestion at the US west coast ports.
Los Angeles and Long Beach have struggled with congestion since June, owing to elevated volumes, labour shortages and reduced work teams at the terminals and distribution centres, and chassis shortages. According to the Pacific Merchant Shipping Association, container dwell time in Southern California in August was 3.25 days, up from 2.8 days in July, with 10% of the containers stuck at terminals for five days or longer.
The congestion spread to the rail carriers serving the ports. Their struggles with elevated volumes have led to rate hikes and surcharges. Union Pacific raised spot rates and/or surcharges three times within a month.
The pain for importers appears to be far from over.