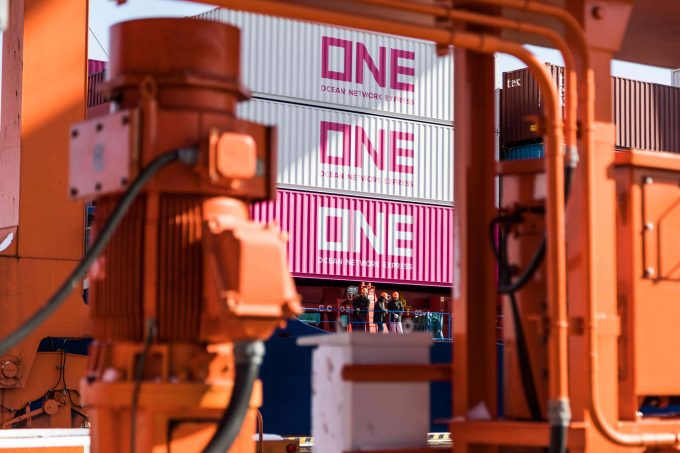 Merged Japanese container carrier Ocean Network Express (ONE) has posted a $105m net profit for full-year 2019 after post-merger synergies improved its bottom line.
It represented a massive reversal of fortunes for a carrier which posted a $586m loss in 2018, coming about with a 9.1% increase in revenue to $11.9bn, as well as further cost cuts.
Increased cost efficiency was one of the main reasons behind linking the three container lines, and the merged carrier said that, by the end of last year, it had achieved its target of eliminating more than $1bn from its combined cost base.
$440m was gained from revising variable costs such as inland transport, terminal procurement and container maintenance with another $310m gained through reduced fixed overheads and $300m saved via network optimisation and bunker cost savings.
Its volumes for the year amounted 12.4m teu.
ONE's financial year runs April to March and its fourth-quarter liftings –  ie, Q1 2020 – were modestly robust: on the headhaul, eastbound transpacific trade saw it carry 585,000 teu and achieve a vessel utilisation rate of 92%, while the westbound Asia-Europe trade brought 443,000 teu with 100% vessel utilisation.
This came despite the initial effects of the Covid-19 pandemic, which ONE said resulted in stagnating volumes and extra variable costs, but mitigated by its already reduced fixed cost and stable freight rates. This meant its results were in line with forecasts.
However, for the remainder of year, all bets are effectively off, as lockdowns in across the world's economies have decimated demand.
ONE partner MOL said: "Recent shipments are down by around 10%-20%. Although ONE has taken measures to flexibly reduce service frequencies, a further significant decrease in cargo trade is anticipated, mainly in Europe and the US, due to sluggish demand."