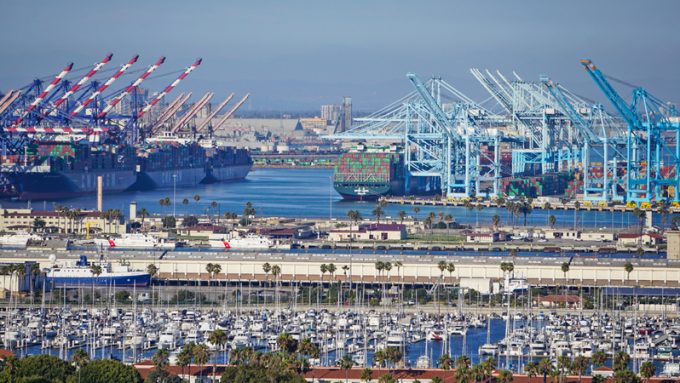 Shippers are resigned to the probability that container spot freight rates from Asia will remain at their current high levels for some time after Chinese New Year. 
Today's beginning of the Chinese lunar new year would usually herald several weeks of downward pressure on freight rates, but so far there are no indications of a slack season developing in the first half of the Year of the Ox. 
"After a year of so much uncertainty, there is a little bit more certainty in 2021 – one thing we can say for sure is that there won't be a slack season," said Seko Logistics chief growth officer Brian Bourke. 
In fact, ocean carriers serving the Asia–Europe and Asia–US tradelanes are reporting huge backlogs of cargo booked to move post–CNY. 
"We're full," said Maersk's CEO Soren Skou this week.  
"We're flooded out with bookings," said Hapag Lloyd's CEO Rolf Habben Jensen last week. 
Today's Asia–North Europe component of the FBX (Freightos Baltic Index) was up 1%, at $7,939 per 40ft, while for Mediterranean ports, it was down 4%, at $7,764 per 40ft. 
It does not seem possible that 12 months ago, spot rates for North Europe stood at around $1,600 and for the Mediterranean at around $1,800, both in decline due to weak demand as the Year of the Rat began on 25 January. 
A UK-based NVOCC told The Loadstar this week he had heard the "good news" that short-term rates from Asia were "holding steady" 
"It sounds like we should be happy that rates are stable at these ridiculously high levels," he said. 
"I would only comment that the carriers are shooting themselves in the foot if the rates are held this high for much longer, as I already know of several clients that have cancelled orders for later in the year as they just cannot sustain the huge increases in freight charges," he said. 
Moreover, rates from China to the UK are in reality much higher than indicated by the spot market indexes. 
"Right now, a 40ft container will cost upwards of $12,000 in ocean freight only," UK-based Westbound Logistics advised its clients this week. 
Meanwhile, on the transpacific, there is no let-up in the rush of containerised volumes heading towards the saturated ports of Los Angeles and Long Beach. 
Indeed, the Los Angeles' Signal import volume forecaster reports 173,622 teu expected to arrive at the port next week, 130% more than the same week of 2020, and at 139,400 teu, a staggering 224% more than last year, due the following week. 
However, the ships that arrive in the San Pedro Bay will join a long queue of vessels trying to secure a berth. According to the Signal data, the average time at anchor has extended to eight days. 
"Our import supply chain is totally broken and disconnected," said Jon Monroe, of Washington state-based Jon Monroe Consulting, while Freightos research lead Judah Levine added: "Sustained volumes and port congestion have factory–to–door delivery times reaching nine weeks compared to a more typical four to five."
The FBX Asia–USWC component edged up by 1%, to $4,334 per 40ft, while rates to the US east coast were flat at $5,739 per 40ft. Transpacific rates for the US west coast are 210% higher than a year ago, with east coast rates up 113% on 12 months ago.