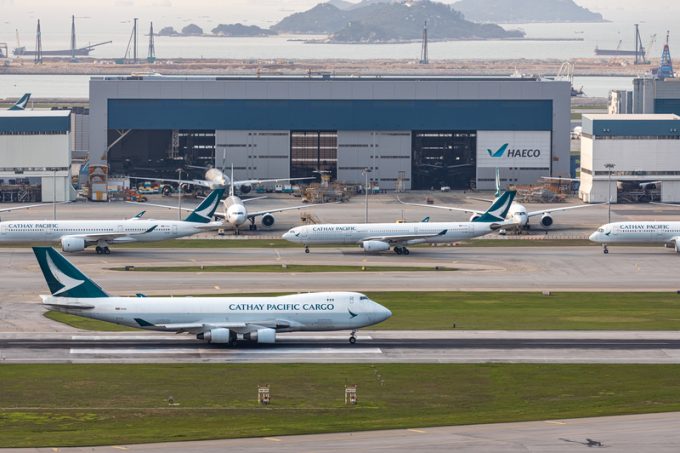 New measures against the spread of Covid-19 infections in Hong Kong could cost Cathay Pacific up to a quarter of its cargo capacity.
The Hong Kong authorities are planning a 14-day quarantine and seven-day medical surveillance mandate for flight crews returning to the territory after a layover abroad.
So far, flight crews have been exempt from Hong Kong's quarantine rules, but the new regime is planned to come into effect some time next month.
The impact on Cathay will be severe. Management estimates it could affect as much as 60% of its passenger capacity and 25% of cargo capacity. The financial repercussions could raise its monthly cash burn by HK$400m (US$51.6m) to as much as HK$1.9bn.
"The new measure will have a significant impact on our ability to service our passenger and cargo markets. The actual extent of such impact is yet to be confirmed and will be affected by a number of factors, including the success of mitigation measures we are able to adopt, such as agile manpower resources management," said group chief customer and commercial officer Ronald Lam.
Cathay's management is looking at ways to mitigate the impact of the new rules. One possible scenario is to set up complex sets of flights to create a closed loop that would see crews on travel for three weeks, followed by the quarantine period and a subsequent break.
"We are awaiting final government instructions, which are expected this week, and will work through the implications to our cargo capacity accordingly. We will share any schedule updates with the market as soon as we are able," said James Conlin, head of cargo global partnerships.
In addition to its freighter fleet, Cathay has been using passenger aircraft extensively for cargo missions and converted some of its 777s into 'preighters'. Last year it ran well over 5,000 pairs of cargo missions with passenger equipment.
Simon Yam, executive director IFF at Kerry Logistics, is certain the new regime will not stop Cathay's longhaul flights, but he expects it to impact the carrier's operations.
Depending on the outcome, forwarders would have to consider options such as using more lift on carriers that do not have crew changes in Hong Kong or diverting freight to other gateways in South China, he said.
"As for utilising gateways other than HKG for our pool of freight from Southern China, this has been an ongoing exercise for us, and our preference is still protecting the HKG aviation hub. We would have to look at other carriers and Quanzhou Airport  as the most possible alternatives."
Ironically, carriers from other Asian countries that have been more severely affected by the pandemic than Hong Kong – notably Japan, South Korea and Malaysia – are not facing such restrictions in their home markets, he noted.
Cargo has been the shining light during Cathay's plight. In December, tonnage was up 3%, year on year, with load factors averaging 80.3%. The airline launched a seasonal freighter service to Hobart to carry Australian fresh produce to Asian markets and recently started freighter flights to Riyadh.
On 12 January, it unveiled its special solution to carry Covid-19 vaccines, which incorporates its next-generation tracking system to monitor ambient shipment conditions in near-real time that is being rolled out across the network.
The airline's passenger business was down 98.7%, year on year, in December.