AeroLogic, the joint-venture between DHL Express and Lufthansa Cargo, has appointed Katharina Prost (above) as its new MD responsible for finance and administration, succeeding Martin Hirsch, who joined Austrian Airlines in June.
Ms Prost previously served as MD at Aeromar, a JV between Aeroflot and LSG SkyChefs in Russia.
Meanwhile, Joe Moser (below), AeroLogic MD operations, has extended his contract and will remain in the role he has held since March 2017.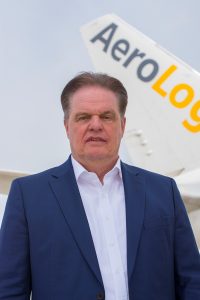 Dorothea von Boxberg, chair of the executive board and CEO of Lufthansa Cargo, said: "With Katharina Prost, we have been able to win an experienced manager for AeroLogic and welcome her warmly.
"We are also pleased to continue the very good cooperation with Joe Moser. We can now look back on 15 years of the joint-venture and are very proud of what we have achieved together: safe and reliable flight operations and steady growth in the fleet by both partners," she added.
AeroLogic was launched in 2007 and is based at Leipzig. Lufthansa Cargo currently markets the capacities of a total of 16 Boeing 777 freighters. Of these, five are chartered from AeroLogic and operated by AeroLogic crews, but they operate under a Lufthansa Cargo flight number. The AeroLogic-owned fleet consists of 21 B777Fs.