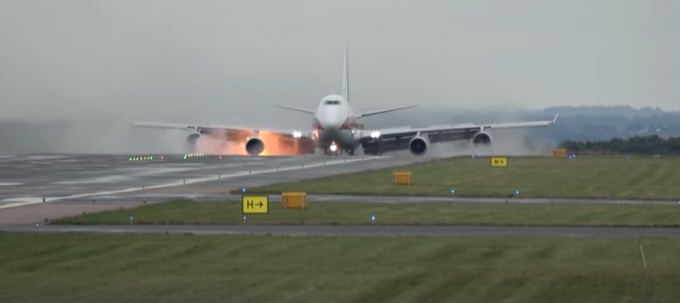 Kalitta Air is thought to have suffered a "slight backfire" on landing at the UK's East Midlands Airport after a flight from Leipzig yesterday.
While the tabloid newspapers took delight in showing flames in one engine, footage of the landing shows that in fact the flames were there for just a split second before the aircraft taxied off the runway.
But the 747-400F – in what will be a blow to the carrier and its customers – has now been on the ground for 17 hours.
"Shortly after touchdown, and after engaging spoilers and reverse thrust, the number three engine (CF6, inboard right hand) emitted streaks of flames and a loud bang," reported the Aviation Herald.
"The aircraft rolled out without further event, emergency services responded, the aircraft vacated the runway and taxied to the apron with the engine still running. Emergency services performed a runway inspection, focusing on the area of the touch down zone, runway 27."
Tony Johnson, an observer on the ground who filmed the landing, said the engine had "ingested something" and "went bang".
However, according to the Aviation Herald, he also said: "Why does the press have to lie? I filmed it all, it was a backfire for a fraction of a second – blink and you would miss it."
You can watch the video yourself – and even if you don't blink, you'll struggle to see it.
East Midlands airport told The Loadstar: "A 747 cargo aircraft belonging to Kalitta Air is currently being inspected by the airline's engineers following reports that it developed a technical issue upon landing at East Midlands Airport (EMA) yesterday afternoon. The flight operated safely into EMA and no action was required from airport staff."