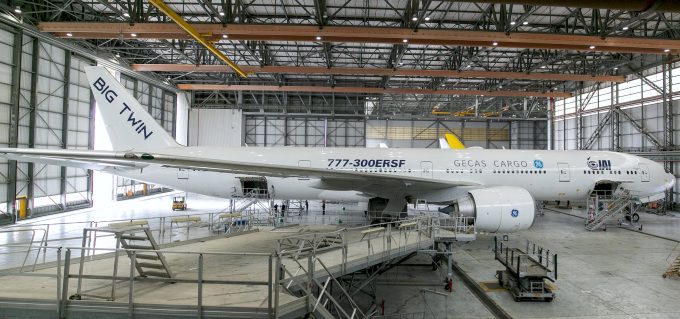 With air freight capacity still well below 2019 levels and airlines predicting lower passenger traffic until 2023 or 2024, the freighter conversion market is heating up.
GE Capital Aviation Services (Gecas) and Israel Aerospace Industries (IAI) said today they were halfway through the development programme for the 777-300ER conversion, a "key milestone".
The project has now moved from planning into physical modifications, a major step forward in the "Big Twin" initiative.
"We've begun executing on the dedicated freighter design developed by the IAI and Gecas Cargo team towards manufacturing the kits and the actual conversion phase under licensing from Boeing," explained Rich Greener, SVP and manager of Gecas Cargo.
Work on converting the prototype will be underway by the end of June. The critical design review is complete, while the prototype 777-300ER was delivered to IAI in June of last year — six months ahead of the initial timeline.
"By leveraging our fleet of passenger aircraft to provide freighter conversion feedstock, we're delivering on our strategy to meet the need for replacement of retiring freighters and increased demand for dedicated cargo capacity," added Mr Greener. "We see the Big Twin meeting requirements of the air cargo industry for the next 20 years, so entering this next phase is thrilling."
Cargo-focused airlines are lining up for converted aircraft. Kalitta Air is launch operator for the Big Twin, while this month MNG Airlines said it had contracted Elbe Flugzeugwerke  (EFW) to convert two A330-300 aircraft. Work on the first began this month, while the second aircraft will be inducted next year. MNG already operates four converted A300-600ERF, and one factory-produced A330-200F.
Meanwhile, ASL Aviation Holdings, which owns five European airlines including a UK start-up, has closed a $125m debit facility with Goldman Sachs in a bid to partially finance the group's medium-haul fleet replacement programme. ASL has confirmed 10 more 737-800 Boeing converted freighter slots with the ,manufacturer, bringing its total to 20. They will arrive by the end of next year. The first seven aircraft will have all been delivered by the end of April.
"With a volatile market due to the impact of the pandemic, this new facility provides ASL with both stability and flexibility," said ASL CFO Mark O'Kelly. "It builds on our financial infrastructure to facilitate future capital expenditure and also enables us to manage our debt profile in Europe, as required as the aviation industry works its way through the enduring effects of the pandemic."
Recent Accenture/Seabury data shows increased usage of freighters is driving the additional capacity in the market. Non-express freighter capacity went up by 22% between 8 and 21 March, year on year, while express freighter capacity rose 29%. Belly capacity is down 54%.