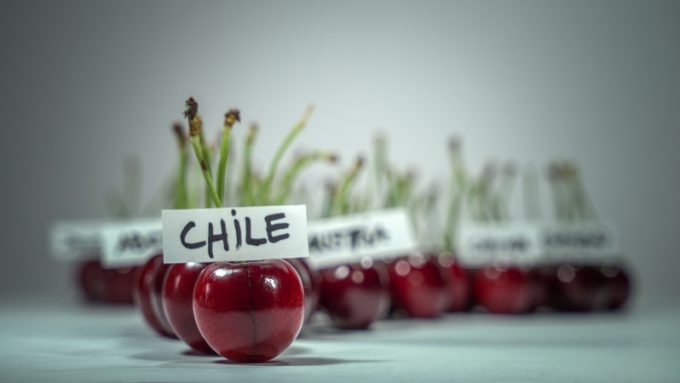 The battle to transport South American cherries is under way, with exporters firmly focused on Chinese markets, where the yields are best.
It's a strong season, according to Chile Economico, with cherry production up some 36% year on year to 310,352 tonnes, with some 90% destined for China in a season that lasts almost up to Chinese new year in February.
Capacity – both air and sea – is now pouring into Santiago, and while Seabury data shows a slump in freighter capacity in Latin America in weeks 44 and 45, logistics executives report that both Kalitta Air and Atlas Air have added capacity, but air freight rates have so far remained weak, despite demand.
"Rates in South America have been really funny," said one GSA that focuses on the trade. "There's not many passenger flights, but rates have been barely increasing. No one is chasing 'Covid rates'."
He added that China had raised concerns about the possibility of Covid-infected perishables coming out of South America, which had contributed to "confusion" in the market. And he said Chinese carriers had kept prices low, with importers wary of paying top-dollar air freight rates.
"The Chinese refuse to pay high rates. The price should be about $5.50/kg, but no one will pay it. Cherries are crucial for Chile's economy, and the Chinese are playing games with strategic export commodities.
"But rates are now going up."
Additional capacity has been helped by the fast-growing ecommerce sector.
"Emirates has put multiple passenger freighters into Santiago, full of e-commerce from China, which is unexpected capacity but it has helped exporters," said Eric Hartmann, chief executive of Air-Mann in Santiago.
He said the beginning of the season was critical for air freight.
"There are high expectations this year, and the cherries are looking really nice. The returns are so good at the start of the season, exporters are only looking at China. The sales are made in China, including the freight cost decisions, but until recently there's been less capacity in the market."
The air freight season for cherries lasts only until the first ship out of Santiago reaches China, three weeks from now. Sea freight accounts for about 95% of the cherry exports, but famously, 2020 has seen extraordinarily high freight rates across a wide variety of sea tradelanes.
MSC has added capacity this year to the traditional Cherry Express service, which goes from Santiago to Hong Kong for transhipment in 23 days, and reaches Nansha in 25 days and Shanghai in 26. The Cherry Express is operated by Hapag-Lloyd, ONE and HMM with MSC, taking a quarter of the capacity each.
This year MSC has added two extra vessels for weeks 49 and 51. MSC Alessia will be calling at Shanghai and Hong Kong, while in week 51, MSC Fiammetta will be calling at Nansha and Hong Kong.
Both ships are currently deployed on the US east coast South America string 1, according to eeSea data. They have 500 reefer plugs, offering additional payload across both ships of 27,700 tonnes, or some 8% of Chile's total cherry export market.
MSC said that it would provide sanitised containers to ensure no Covid contamination.
"Cherries have become an increasingly popular fruit in China as consumer spending power rises across the country. Furthermore, the timing of the Cherry Express leads up nicely to the Chinese New Year. Red Chilean cherries are especially popular during this period with consumers as the red fruit symbolises prosperity and fortune," said Pikkei Yuen, inbound sales manager.