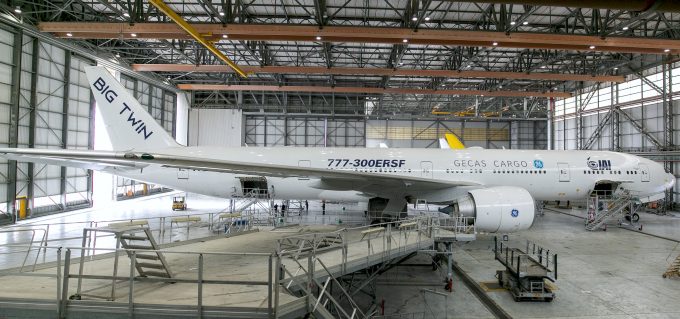 Red hot demand for freighters is prompting major players to step up conversion programmes.
Boeing is expanding capacity to turn out 737-800 freighters, while Israel Aerospace Industries (IAI) has announced a new site for 777 conversions.
The US plane maker announced on 5 May it had struck a partnership agreement for Costa Rica-based MRO provider Cooperative Autogestionaria de Servicios Aeroindustriales (COOPESA) to set up two conversion lines for 737-800s under licence.
According to Boeing, the first conversion line will open early in 2022, with the second expected to follow later that year. Currently, Boeing has three locations for 737-800 conversions.
Meanwhile, recent 737 conversion activity has shifted from 737-400s to the -800 series, which offers greater payload and range. In the wake of the pandemic and the return of the 737MAX to the skies, more 737-800 models have become available for conversion.
"We are seeing ample supply, and prices continue to come down," said Bob Convey, senior VP of sales & marketing at AEI, which pioneered conversion of the type. He reported robust demand, and also for MD-80 and CRJs programmes.
"We are now sold out for 2021 on all lines on all products, and sold out for half of 2022. I am expecting to be completely sold out for next year by early summer," he said.
According to Boeing, there have been over 180 orders for 737-800 conversions to date.
At the large end of the spectrum IAI is blazing a trail with 777 conversions and is moved building up capacity. It will establish a conversion line in South Korea to be operated by Sharp Technics, which aims to convert six 777-300ERs and 777-200LRs a year, starting in 2024.
IAI recently got the green light from US regulators for its design of a 777 conversion programme, and engineering work on the prototype will commence shortly. Here it is working on 777 conversions in tandem with leasing firm GECAS, with the first three destined for Kalitta Air.
Boeing itself showed no inclination towards a 777 conversion programme, which would offer an alternative to its production freighter. However, new CORSIA environmental rules stipulate that planes which do not meet new standards cannot be produced after 2028. This could affect the 777-200 and -300 series, as their wings are not designed to take new-generation aircraft engines, according to one insider.
With the 747 no longer in production, the 777-200F has become the new flagship for Boeing in the widebody freighter segment. Should it be jeopardised by CORSIA, converting 777s would be attractive.
Boeing told The Loadstar: "Boeing continues to study the business case for a 777 passenger-to-freighter conversion programme. Any decision whether to launch a programme will be largely driven by customer needs and market demand."
The company was nearly as non-committal on 767 conversions. It said: "We continue to see strong market demand for the 767-300BCF ,with more than 80 orders and commitments to date." It added that last year Boeing had increased conversion capacity for the 767-300BCF and anticipated creating more.
Last summer, interim director of freighter conversions Jens Steinhagen said Boeing would be looking to add at least one line in 2021.